Prolonged torrential downpour on October 16 many streets in Ho Chi Minh City and the traffic was almost blocked by floodwater.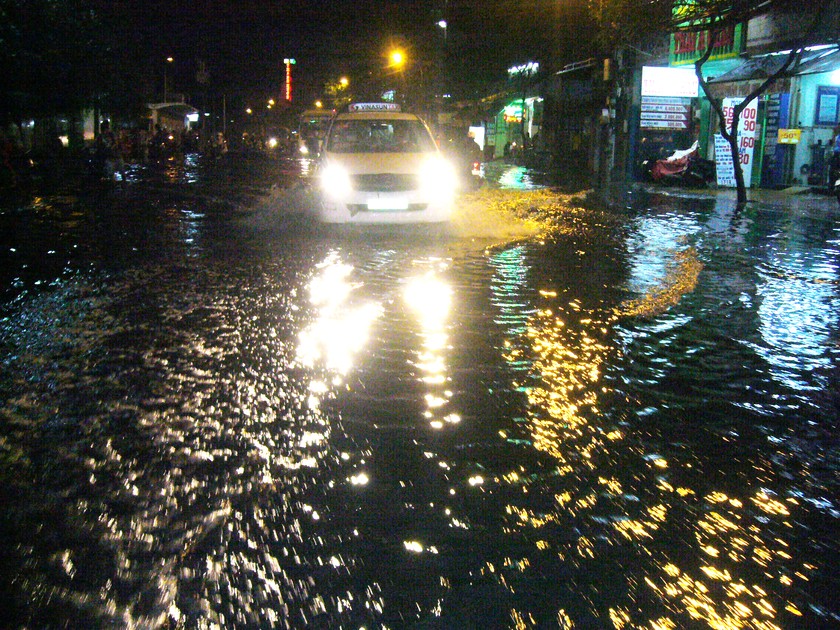 (Photo:SGGP)
Heavy flooding hit many other streets, including Tran Hung Dao, Chau Van Liem, Hong Bang in district 5, An Duogn Vuong in district 6, Nguyen Van Qua, Song Hanh, Phan Van Hon in district 12, Phan Huy Ich in Go Vap District, Do Xuan Hop, Hanoi Highway, Le Van Viet in District 9 and Kha Van Can in Thu Duc District.
Heavy rain left T – intersection La Xuan Oai – Le Van Viet to Thu Duc Crossroad under meters of water, causing many vehicles to break down yesterday afternoon.
Traffic in roads Dong Den, Bau Cat, Hong Lac, Au Co in Tan Binh and Tan Phu districts paralyzed. Residents placed sand bags, logs of wood in front of their houses to prevent black water and dust from flowing in.
The same situation was recorded on many other streets, including Hoa Binh in District 11 and Luy Ban Bich in Tan Binh District. Floodwater reaches over half of the height of a motorbike.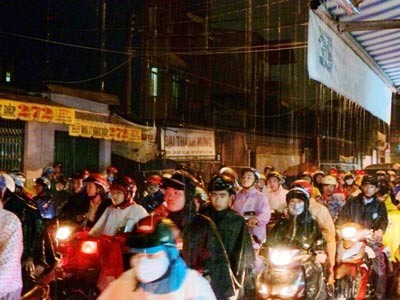 Heavy rain caused  floodwater & traffic jam in Tan Phu, yesterday  (Photo:SGGP)
Many automobiles broke down queuing up in a line waiting for rescue team for repairing. Drivers of hundreds of broken down motorbikes had to wheel their vehicles. Drivers chose to divert on the non-flooded streets like Khuong Viet and Trinh Dinh Trong  resulting in a mess in traffic along these streets.
According to the Steering Center of the Urban Flood Control Program for HCMC, drainage systems can not work properly when there is downpour plus with high tide. Meanwhile construction units have not build up temporary drainage network when they are working on drainage system in Tan Hoa-Lo Gom Canal Basin.