Le Manh Ha, deputy chairman of the People's Committee in Ho Chi Minh City on Thursday issued heavy penalties and revoked licenses of 11 petrol stations in the City that were indulging in fraudulent business practices.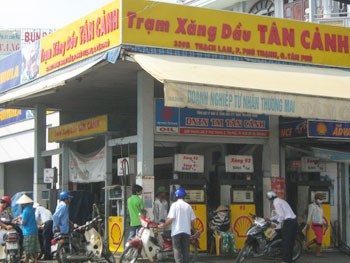 One of the 11 petrol stations caught selling low quality gasoline in Phu Thanh Ward of Tan Phu District (Photo: Thanh Nien)
Mr. Ha made the decision at a meeting he chaired with relevant departments on action against the 11 petrol stations which had been found selling low quality gasoline to consumers.
Accordingly, the petrol stations will pay a maximum fine of VND30 million (US$1,430) and lose their business licenses for a period of 12 months.
Decisions to this effect will be sent to the businesses by January 1 next year, Ha said.
Authorized organizations will continue to examine 518 other petrol stations in the city.