Inspectors from the Health Department in Ho Chi Minh City on Friday penalized and revoked license of five traditional medicine clinics, for violating health regulations and falsely advertising their products.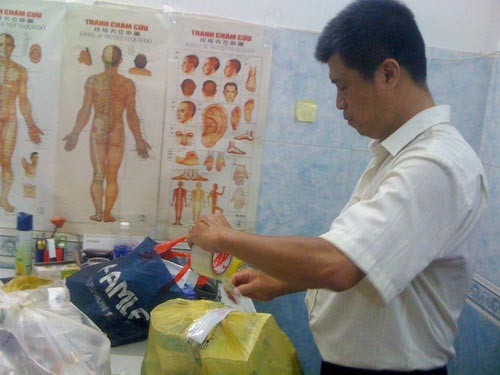 An inspector from the Health Department examines a traditional medicine clinic in HCMC (Photo: Nguoilaodong)
The five clinics are 141 Phan Dang Luu, Anh Sang, Dong Phuong, Dam Sen and Hue Ha, and their licenses will be revoked for nine months.
Another five traditional medicine clinics were fined for the same violations. They are Phuc Khang, Van Lang, Tam Duc, Nhan Ai and Trung Nam.
The inspectors also seized a large quantity of medicines with unmarked labels from the above ten clinics.
Police also investigated Dam Sen and Truong An clinics for falsely advertising their products.
Dam Sen clinic received an extra penalty of VND2 million (US$95) for trying to hinder the inspectors from investigating and the clinic refused to admit to wrongdoings despite being caught.