Impoverished people in Ho Chi Minh City, as recommended by the City's Labor Union in a press conference on the housing program for the poor held by the city authorities on Thursday, will then be able to buy the house with interest-free loans.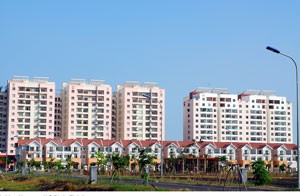 A new urban area in Binh Chanh District in HCM City. (Photo: Viet Dung/SGGP)
The Ho Chi Minh City Cooperative Alliance, a state organization that monitors cooperatives and collective ownership, told the press that the public have been lauding the "Housing Savings Program" by offering their land to build the first two apartment complexes in district 12 and Thu Duc district, for the city's low income earners.
The project is expected to start early next year and once finished, one quarter of its total area will be used for business, while the remaining 75% will be for accommodation purposes.
The Vietnamese Cooperative Alliance initiated the program in September 2004 and has targeted around 2,000 underprivileged people and families in HCMC and Ha Noi in the initial stages of the project. Swedish experts have also been invited as consultants on the assignment.
According to the HCMC Alliance, the city will need 70,000 apartments for low income families by 2010. Of them, 60,000 houses are expected to be sold with the installment plan and the rest put up for rent. Land for such houses will be initially taken from abandoned industrial sites, the city alliance said.
In 1990, HCMC built 1,500 houses, worth over VD10 billion for low income employees in state's administrative and business departments.
Since then, agencies and enterprises have assisted by giving over VND24 billion worth of financial support to nearly 1,600 employees to purchase housing.
Currently, up to 280,000 state employees are forecast to be in need of accommodation. Of this, it is estimated that 30% cannot afford to buy using the installment plan program, creating further complications to the generous installment scheme.