Ho Chi Minh City will open the annual Sales Promotion Month 2015 tomorrow at Phu Tho Indoor Stadium to stimulate consumption demand and boost the 'Vietnamese consumers give priority to Vietnamese goods' campaign.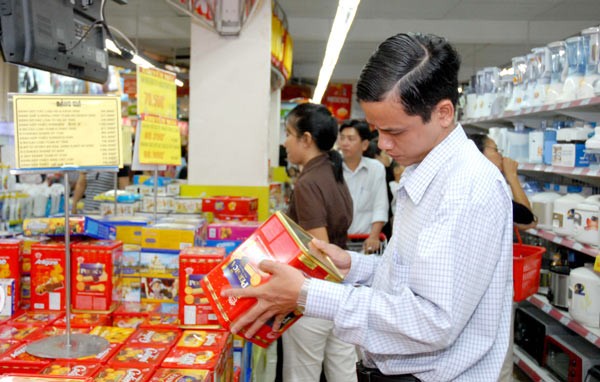 Inside a supermarket in HCMC. Many made-in-Vietnam products are favorite by local consumers (Photo: SGGP)
The opening ceremony has the attendance of 360 businesses selling their goods at 600 stalls, said the organization board, adding that over 2,000 firms and 4,000 households from traditional markets and shops across the city have registered to participate in the program at 6,200 retail outlets.
The program's expenditure is estimated at VND2.2 trillion (US$97.63 million).
Businesses will offer 5-49 percent discounts on various types of commodities including consumer goods, food, cosmetics, medicines, electronic and fashion items and services like banking, telecommunications, interior decoration, tourism and hotels. Besides, they will provide products on trial basis to customers.
Mr. Nguyen Phuong Dong, deputy director of the city's Department of Industry and Trade, said that market management force would tighten control over the origin and quality of commodities under the program.
The department has proposed 24 districts in the city to supervise promotional activities of local traders. Violators will face maximum penalties and might be suspended from attending the program in following years.
Many discount events will take place citywide from September to December to celebrate the 10th anniversary of the Sales Promotion Month this year.