Communist Party Secretary in Ho Chi Minh City Le Thanh Hai met with San Francisco Mayor Edwin Lee on the occasion of the 20th establishment anniversary of HCMC-San Francisco friendship at the U.S. city halt on July 14 (Hanoi time) during his visit to the U.S. 
HCMC Party Committee Secretary Le Thanh Hai (R) and San Francisco Mayor Edwin Lee (Photo: SGGP)

Mayor Edwin Lee welcomed Secretary Le Thanh Hai and stressed that the two cities' cooperation activities have brought certain results.


The HCMC-San Francisco friendship establishment has contributed to boosting VN-U.S. relationship normalization, he said.
Mr. Hai said that HCMC always appreciated the two cities' friendship, which has help them more understand each other and increase mutual political reliability.
In reply to Mr. Hai's invitation, Mayor Lee said that he would soon lead a San Francisco delegation to visit HCMC in the near future.
At the talk, the two sides signed an agreement to continue speeding up cooperation relations and strengthening the special and comprehensive relationship in the phase 2015-2020 over many fields including trade and investment, culture, education, sports, tourism, science and technology, urban management and development, health and public services.
Afterwards, a ceremony was hosted to mark the 20 anniversary of the two cities' friendship at San Francisco city halt with the attendance of their senior leaders, representatives from the San Francisco-Ho Chi Minh City Sister Committee and Vietnamese expatriates.
Mayor Edwin Lee expressed his gratitude to previous leaders, residents and businesses of the two cities for their efforts in the present-day relationship reality of HCMC-San Francisco.
He affirmed that he would continue facilitating friendship development of the two sister-cities within his capacities.
Jabil Circuit invests another US$500 million in HCMC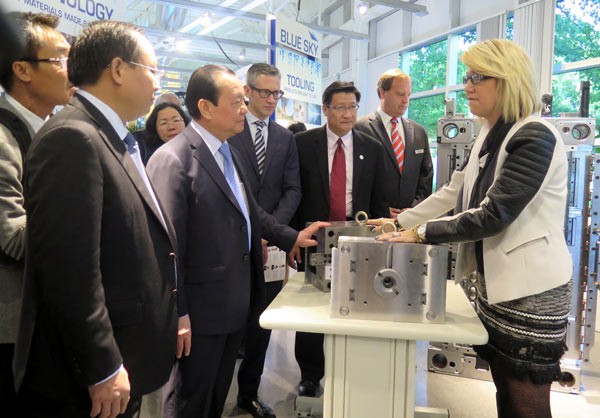 Mr. Hai visit Jabil Circuit Inc. (Photo: SGGP)
On the same day, Mr. Hai led his delegation to visit Silicon Valley where the HCMC People's Committee signed an agreement permitting Jabil Circuit Inc. to invest an extra of US$500 million to broaden its production scale at the Saigon Hi-Tech Park.
Mr. Alessandro Parimbelli, managing director of Global Electronic Manufacturing Unit at Jabil Circuit, said that the company's strategy was to supply US$500 million to broaden production scale over 93,000 square meters following its subsidiary' successes in Vietnam.
The company will focus on computing manufacturing, storage, networking and applied telecom, he said
The project will contribute to HCMC growth, especially in hi-tech field, he added.
Jabil is the world's third largest electronic manufacturer who has invested in the Saigon Hi-Tech Park since 2007. The subsidiary's annual revenue has grown 50 percent for the last five years and export value has totaled US$1.3 billion as of June. The company has provided steady employment to over 2,600 local workers.
Mr. Hai confirmed that HCMC authorities would continue providing the company with favorable conditions and the best assistances so that its project can effectively operate in the Saigon Hi-Tech Park.
Intel signs MoU on human resource training for HCMC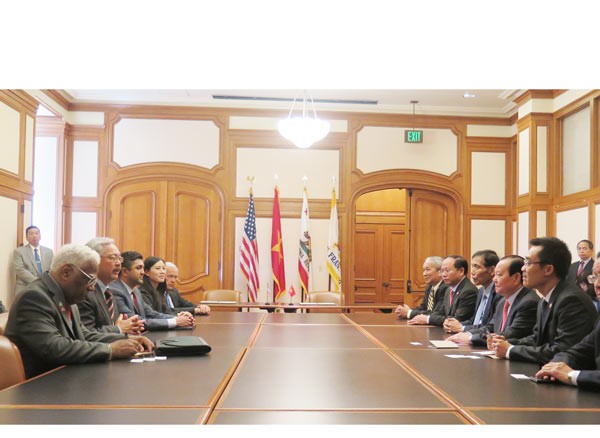 A view of the meeting between HCMC and San Francisco delegations (Photo: SGGP)
Secretary Le Thanh Hai also visited Intel Group in the Silicon Valley.
Receiving the Secretary, Mr. Brian M.Krzanich, director general of the group, pledged long-term investment in Vietnam.
He proposed HCMC leaders to map out a strategy to develop hi-tech human resource, develop support industry to increase localization rate in Intel products, have mechanisms and policies permitting the group to import secondhand equipment and machines for its plant in Vietnam.
In response, Mr. Hai reaffirmed that the city would always accompany Intel along its journey to expand investment in HCMC. The city's leaders would work with the group to find elementary and long term measures to the above proposals.
On this occasion, the HCMC People's Committee and the group signed a Memorandum of Understanding (MoU) on cooperation in human resource development in the hi-tech field.

Related article:
HCMC Party Secretary visits oversea Vietnamese in U.S.