The Ho Chi Minh City Department of Industry and Trade is ready for selling ethanol gasoline E5 at all filling stations in the city from December 1, said a representative from the department on Saturday.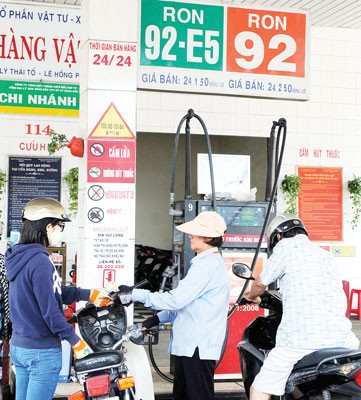 Most residents have been in the habit of filling Ron 92 gasoline (Photo: SGGP)
The department is about to send a report to the city People's Committee to implement the Government's program on nationwide consumption of the blend on schedule, he said.
 
Previously, it had sent a document to businesses asking them to ensure the Government's consumption schedule of gasoline E5 and encouraging their filling stations to only sell it.  In case they are unable to do that, 50 percent of gasoline available at their stations must be the blend.
 
The city's People Committee is expected to meet with petrol companies on the December citywide sale of gasoline E5 by the end of this month.
 
An official from Saigon Petrol Company said that all their five filling stations had installed E5 petrol pumps supplying 40 million liters a month.
 
The Vietnam National Petroleum Group has expanded the blend's sale at another three stations taking the total to eight in HCMC.
 
Mr. Pham Van Khoa, deputy director of Petroleum Materials Joint Stock Company (COMECO), said that gasoline E5 had been sold at 19 out of its 32 stations in the city.
 
However, the number of customers filling this blend is very limited accounting for one tenth of traditional gasoline consumers, he added.
 
He proposed the Government to issue policies to facilitate production and trade of bio fuel to reduce difficulties for E5 gasoline businesses and attract more attendees.
 
Information of E5 gasoline should be strengthened to raise residents' awareness of bio fuel's importance to energy security, environmental protection and sustainable development.