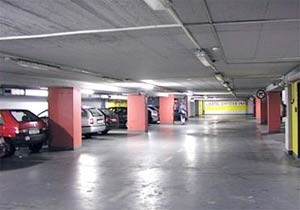 An under-base car-park of Saigon Center, District 1. (Photo:TK)
The Ho Chi Minh City People's Committee on Wednesday established a group of many interdisciplinary members to work on the city's underground car-park projects.
The nine-member group, led by Deputy Director of the city's Department of Transport and Public Works Nguyen Viet Son, will be in charge of selecting investors for the projects, checking selection report before submitting it to the City People's Committee for approval, negotiating the content of the build-operate-transfer (BOT) contract of the car-park construction and doing the consultancy work.
According to the Department, a lack of construction standards is the main reason why current eight projects to build underground car-parks in District 1 failed to be implemented.