The process of voting for and honoring individuals or organizations who achieve outstanding results under Ho Chi Minh City's patriotic emulation movement must be made public, transparent, fair, scientific, and be based on several information sources, rather than solely on reported achievements.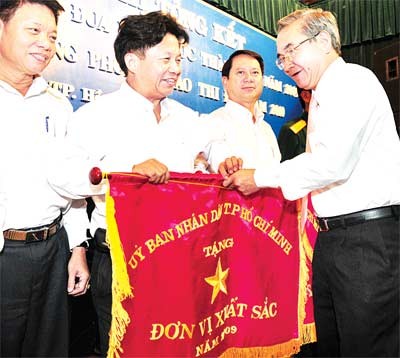 Tran The Tuyen (2nd L), editor-in-chief of Sai Gon Giai Phong, accepts an emulation flag for "Outstanding Labor Unit in 2009," on behalf of Sai Gon Giai Phong newspaper, from Nguyen Trung Tin (R), vice chairman of the Ho Chi Minh City People's Committee (Photo: SGGP)
Nguyen Thanh Tai, vice chairman of the city People's Committee, made the statement on March 23 at a conference to review the city's patriotic emulation movement in 2009 and launch a new one for 2010.
 
He said this year's movement should be based on political duties and organizations' work, and monitored closely. In this way, high achievers can be easily recognized while changes to the movement's content can be made in a timely manner if certain aspects are found no longer appropriate.
 
Vice Chairman Tai also applauded the city's contributions to the country through the movement in 2009.
 
He said that in the 2008-2009 period, Vietnam as a whole and HCMC in particular faced many difficulties but the city still achieved impressive results in its socio-economic development. These results were partly produced by the city's emulation movement.
 
Reviewing last year's program, Nguyen Thi Nhu Thuy, head of the city Emulation and Rewards Board, said that while the movement had developed strongly, it had yet to develop widely, deeply and comprehensively.
 
She said the content of the movement was too general and not practical. In addition, political agencies and unions in some localities didn't join the movement in earnest, and thus failed to attract many individuals and organizations.
 
Some of the individuals who were honored in 2009 were also invited to the conference to share their achievements and experience.  
 
They included Nguyen Duc Hung, a criminal police officer who successfully investigated over 100 cases in 2009; Nguyen Hong Loc, an employee of the Tan Hiep Water Plant honored for an invention related to his work; and Le Thi Hoang Lan, a resident in the city's Can Gio District who brought meals every day from Thanh An island to poor students in Can Gio for six years.
 
Also on the occasion, 29 units were awarded emulation flags by relevant ministries and 42 by the HCMC People's Committee for their outstanding achievements in 2009.
 
An additional 140 units were also awarded the title of "Outstanding Labor Unit in 2009." Sai Gon Giai Phong was among the recipients of this award.