Politburo member, Ho Chi Minh City Party Committee Secretary Le Thanh Hai and People's Committee Deputy Chairman Nguyen Huu Tin on May 25 witnessed the signing ceremonies of Memorandum of Understandings (MoU) on cooperation between Vietnamese businesses and agencies with large economic groups of the Republic of Korea (RoK).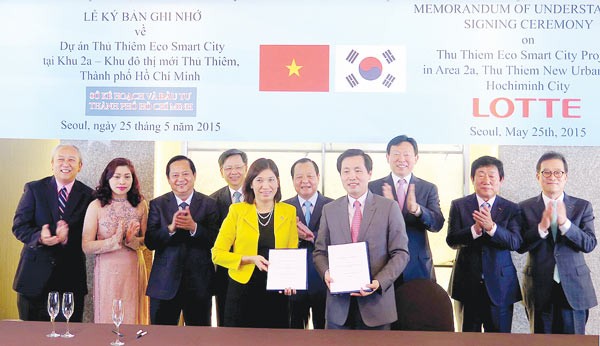 Politburo member, HCMC Party Committee Secretary Le Thanh Hai (C)at the MoU signing ceremony between the city Department of Planning and Investment and Lotte on May 25 (Photo: SGGP)
These were parts of their activities during an week long visit to RoK starting May 23.
 
Chairman of Lotte Group Dong Bin Shin said that they had done business in Vietnam since 2005. The company together with some Japanese groups is going to invest in Eco smart city project in the district 2's center of Thu Thiem New Urban Area in Ho Chi Minh City.
 
At the meeting, representatives from the HCMC Department of Planning and Investment and Lotte signed a Memorandum of Understanding (MoU) on the project's implementation.
 
Lotte affirmed that they would pour a total of US$1.5-2 billion in the new urban area and HCMC also. The group expressed hope that the city would assist them to start the project on September 2.
 
In response, Mr. Hai affirmed that HCMC always welcomes and creates advantageous conditions for foreign investors including Lotte. However, the group has to ensure a green urban area with architectures harmonious with surrounding works while building the Eco smart city.
 
Mr. Hai appreciated highly investment and trade activities of Lotte in Vietnam and HCMC.
 
US$500-600 million investment in equalized SOEs
 
Right after the meeting with Lotte, Secretary Hai received permanent deputy chairman of CJ group Mr. Lee Chae Wook.
 
CJ operating in four fields of amusement, food, biological technology and transport has invested over US$250 million in Vietnam since 1998 and hoped to make Vietnam its third largest market in the world.
 
The group plans to invest US$500-600 million in state own enterprises (SOEs) that have been equalized such as Vietnam Meat Industries Limited Company (Vissan).
 
Mr. Hai said that the city advocated the company's investment policy in Vietnam and proposed it to continue having positive contributions to the good relationship between the two countries.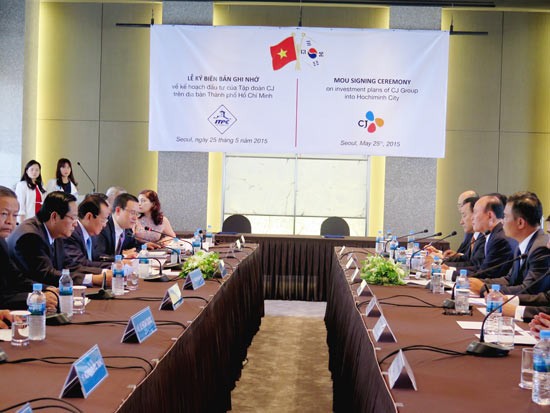 Mr. Hai listened to CJ group's investment plan in Vietnam (Photo: SGGP)
Thereafter, CJ signed three MoUs with the HCMC Trade and Investment Promotion Center, CPK Company and Tien Phuoc Company.
 
According to Mr. Hai, the two countries' relationship has comprehensively developed in all fields including health, education and culture.
 
The two sides have also signed a free trade agreement and set a target to raise bilateral trade turnover from US$40 billion now to US$70 billion by 2020.
 
Despite under influences of the world economic crisis, HCMC has still developed thanks to tourism and services. Services account for 60 percent of the city's economic structure while the number of visitors to the city occupies 44 percent of the country's total number of arrivals.
 
HCMC's Gross Domestic Product (GDP) accounts for one fifth of Vietnam's GDP and budget revenues contribute over 30 percent.
 
HCMC locating in the southern region's economic hub is a gateway to enter surrounding markets such as Laos, Cambodia, Myanmar and Thailand.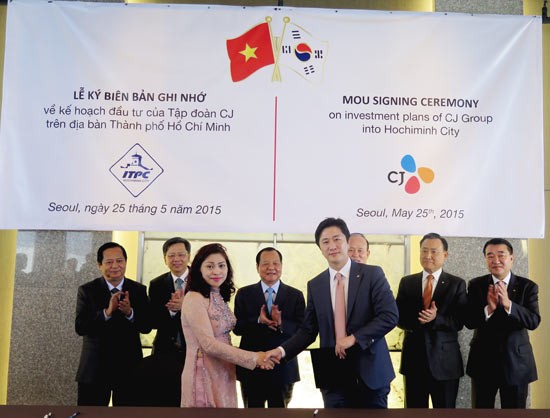 Secretary Hai at the MoU signing ceremony between HCMC Trade and Investment Promotion Center and CJ Group (Photo: SGGP)
Related article:
Ho Chi Minh City high ranking officials visit South Korea