The Government's green light to Ho Chi Minh City to collect toll from cars entering the downtown area as part of efforts to ease traffic congestion is causing apprehension among auto owners, manufacturers, and importers.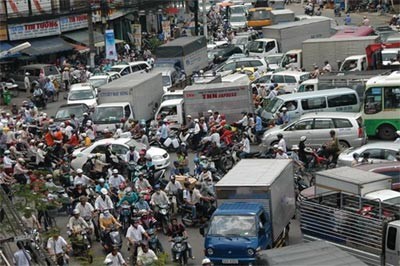 A typical HCMC street. With the city unable to handle the growing number of vehicles flooding its streets daily, it has decided to collect toll from cars entering the downtown area, hoping this will help ease the congestion (Photo: SGGP)
At 400,000, HCMC has the largest number of cars in the country, and they occupy 55 percent area of its road area and 60 percent of parking lots.
 
With the cost of maintaining a car already high, the new toll comes as a blow to owners who
might choose to go by taxi or rent a car instead, auto makers and importers said.
 
Auto sales has already slumped after value-added tax and registration fee were raised to 10 percent this year.
 
But for the city, falling auto sales means lesser congestion on the roads while the new toll will generate more funds to develop infrastructure and public transport and build new roads.
 
Innovative Technology Development Corporation (ITD) has been awarded the contract to collect the toll, which will be done on a trial basis for six months.
 
ITD's director, Lam Thieu Quan, said the company would invest VND500-700 billion (US$26.3-36.8 million) in the program and hoped it would help ease traffic on the city's roads.