Deputy Chairwoman of HCMC People's Council Truong Thi Anh yesterday had a meeting with the municipal Department of Labor, Invalids and Social Affairs; Labor Union, and managing board of industrial parks, firefighter force and Youth Communist Union upon taking care of special families in the upcoming Tet holidays (Lunar New Year).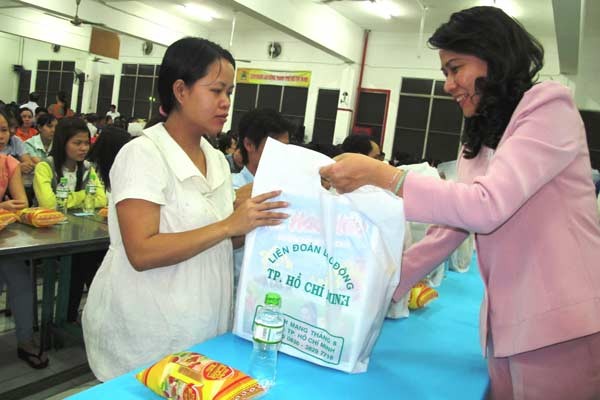 HCMC allocates a sum of VND661 billion to take care of workers in Tet holidays (Photo: SGGP)
Director of the Department of Labor, Invalids and Social Affairs Le Minh Tan said that the department and the department of finance have submitted a report of spending for gifts in Tet holiday to the People's Committee. Total spending is estimated nearly VND661 billion (US$ 29,038,084), an increase of VND60 billion compared to last year.
As per the plan, 758 people including old veterans, Vietnamese heroic mothers, specially seriously wounded soldiers, old soldiers whose health condition declined 81 percent because of being exposed to Agent Orange in the war will receive gifts worth VND2.6 million each. Over 1,500 people are severe soldier ranking 1/4, pre-war soldiers, relatives of two martyrs, soldiers whose labor power declined 81 percent due to being exposed to Agent Orange will be offered gifts, valued at VND1.4 million each.
Over 273,000 wounded soldiers, relatives of one martyrs, revolutionary people who were tortured and prison for participating activities against the old government will receive VND1,060,000 each.
Poor former political prisoner who have not enjoyed preferential treatment and 47 families of soldiers who stationed in Truong Sa (Spratly) archipelago and marine platform DK1 will receive gifts worth VND950,000 each.
Mr. Minh Tan said that the city has around 104,000 needy households and families whose economic condition are close to poverty line. 57,000 poor families will receive a gift worth VND1.1 million while local governments will encourage enterprises and benefactors to take care of close-to-poverty-line families.
The city also has allocated nearly VND123 billion for looking after 49,500 persons who are prioritized under the social welfare policies regularly and over 79,000 elderly people aged 80 up; each will receive VND950,000. More than 11,000 drug addicts in 13 rehabilitation centers will be taken care of in the special holidays. 156,000 employees of state-run companies and unions in the city will receive a gift of VND1.2 million for each.
Giang Van Nam from the Labor union asserted that all poor workers will receive support. For instance, needy laborers, or those suffer work accidents, untreatable illness or those get unilateral contract termination in Tet holiday without bonus, workers in rented houses who do not return their hometown on special holidays because of financial difficulties or unemployed workers will be offered VND500,000.
The city's unions and enterprises will provide free trips to take workers who have badly ill husband or wife and workers who did not return their hometown for over two years. Labor unions will organize a special program to take care of 600 worker families who lost job or those suffer work accidents, incurable diseases, pregnant workers who are breeding babies...
Deputy head of HEPZA, Pham Huy Thong said that the HEPZA will give 1,200 train tickets from HCMC – Hanoi and HCMC-Da Nang to workers and HEPZA's labor union will also organize a festival for workers.
Around 3,500 good workers in Hiep Phuoc, Binh Chieu, Tan Thoi Hiep, Hiep Phuoc, Tan Tao, Le Minh Xuan, An Ha, Tan Binh, Vinh Loc, Cat Lai, Tay Bac industrial parks and Linh Trung 1, 2, Tan Thuan export processing zones and hi-tech zone will receive gifts each worth VND600,000.
The Department of Labor, Invalids and Social Affairs in HCMC said, the average bonus for Tet holidays will be around VND8.3 million and VND4.8 million as a minimum.