The 10th congress of the Ho Chi Minh City Party Committee for the tenure 2015-2020 was officially opened this morning. Under the leadership of the previous tenure Party Committee, local authorities and residents have utmost promoted their inner forces, taken advantage of outside forces to implement drastic breakthrough measures and achieved many important and comprehensive results for the last five years.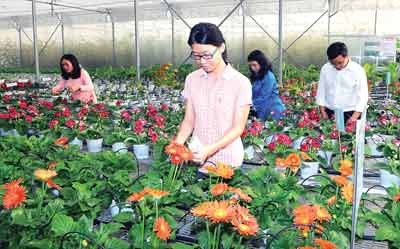 A flower planting site of HCMC Biotechnology Center (Photo: SGGP)
Stable economic growth 
The city's economy sustained stable and rational growth rate. Gross Domestic Product (GDP) growth averaged 9.6 percent a year during the phase of 2011-2015, 1.66 times higher than that of the country.
HCMC held 21 percent of Vietnam's GDP growth rate, 20 percent export import turnover and 33 percent budget revenue. It has been one of localities attracting most foreign direct investment (FDI) with over 5,680 valid projects at the total registered capital of US$39.5 billion.
Social investment capital has been on the rise with increasing effectiveness. A budget dong attracted 8.5 dongs from social capital in the phase of 2006-2010, which topped 12.5 dongs in the five following years.
 
Retail and wholesale systems have quickly developed creating abundant goods supply sources. The campaign 'Vietnamese give priority to consume Vietnamese goods' saw market scale up 2.38 times compared to it in the phase of 2006-2010.
Urban infrastructures develop vigorously
A total of 435 important traffic and water supply and drainage works have been built improving the city's ability to develop towards the East, West and South.
The city has done 300 kilometers of new roads and 70 bridges, and many key traffic works such as Vo Van Kiet and Mai Chi Tho boulevards, Saigon River Tunnel, Pham Van Dong road, the eastern outer belt road, and Saigon 2 Bridge.
Cleanup project have been completed in Nhieu Loc-Thi Nghe, Tan Hoa-Lo Gom and Tau Hu-Ben Nghe canals and seaports have been removed from inner HCMC to Cat Lat and Hiep Phuoc port complexes.
Education, training shows positive changes
HCMC has concentrated on improving the quality of human resources, science and technology study and application. Budget spending has increased year by year to gradually modernize and improve material infrastructures and teaching quality.
Education quality at universities, colleges and vocational schools has partly met high-quality human resources for nine key service and four industry fields and labor exports. Local authorities have paid attention to vocational training in rural areas.
Residents' life improved
HCMC has paid heed to economic restructuring and residents' life. So far, it has completed the new rural development program in five suburban districts and the fourth phase of another program to reduce poverty and improve residents' income.
The income level of poor households has been increased to VND16 million (US$732) a year and VND21 million (US$937) to those near the poverty line, 2.7 times higher than national level and topped the international poor standard of US$2 a day.
Foreign relations intensifed
Activities on foreign relations and international integration have been stepped up. Works have been promoted to mobilize oversea Vietnamese's contributions to building the country.
HCMC attracted US$24 billion remittance for the last five years, up nearly 38 percent over the phase of 2006-2010.