Since early 2017, Ho Chi Minh City People's Committee planned to adopt measures to reduce multi-dimensional poverty with the goal of cutting rate of 1.2 -1.4 percent of poor households.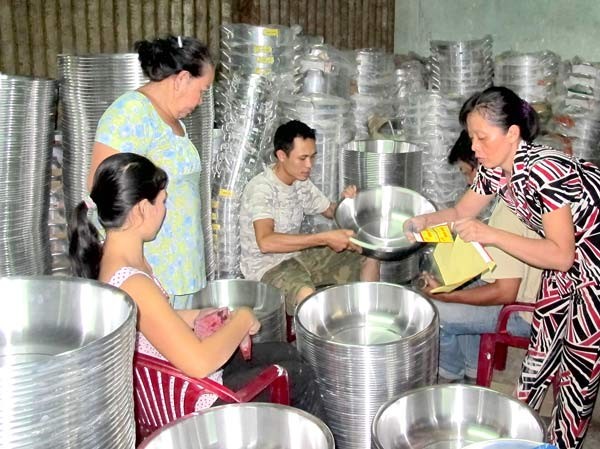 Employment is necessary for poor people. Unemployed poor people work in Minh Hoa aluminum factory in district 8 (Photo: SGGP)
The city administration strives to have no poverty households in the end of 2018, said Deputy Head of the Department of Labor, Invalids and Social Affairs Nguyen Van Xe.
Moreover, the city will set up poverty reduction program into socioeconomic plan for all sectors and agencies.

Along with this, the city will have policies to support poor people to escape poverty, facilitate them in production and increase access to basic services.
Mr. Xe said that the city's policies will focus on supporting the poor to increase income, provide vocational training, employment, accessing to social services such as fresh water, healthcare, insurance, social housing, providing social welfare, law supporting, infrastructure and others.

The United Nations Development Program (UNDP)'s multi-dimensional poverty project manager Dr. Le Thi Thanh Loan said that the city has around 65,000 poor households accounting for 3.3 percent of the whole households and 47,000 close-to-poverty households. Half of them are short of education, social insurance; over 39 percent of them are in need of accommodation; one third is unable to access medical services and 15 percent of lack of information.

Loan pointed out that occupational skills, social insurance and housing are three things which poor people really need.

Housing demand is a big challenge for city administrators, Dr. Du Phuoc Tan from the city Development Research Institute said. As per a survey comprising of 1,300 poor households, 93 percent of them noted their demand of houses.
Statistically, the city has nearly 38,300 low-income households and households whose economic condition is close to poverty having housing demand in next five years. However, they mostly just want to hire or buy social houses and just 12.5 percent of them can afford social condos.

In a bid to narrow the gap between the rich and the poor, Le Van Thanh from the city Development Research Institute said that city leaders must have detailed planning to ensure land fund to build social housing for people with low-income in urban and in industrial parks.