Nguyen Thanh Phong, the newly elected chairman of Ho Chi Minh City, stressed that police force in the city must strive to reduce 10 percent traffic accidents over the number of accidents, the deaths and the injured and minimize the traffic gridlocks in suburban districts.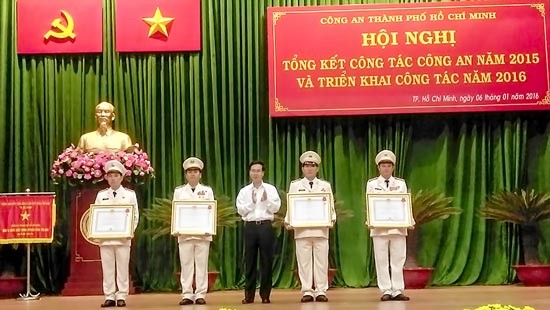 Good police officers were awarded medals at the meeting (Photo: SGGP)
Speaking at a meeting of police force in the city on January 6, Mr. Phong said that as Tet holidays (Lunar New Year) is nearly coming, police force must keep social and security order to offer peaceful atmosphere for local residents during Tet's holidays. The meeting were attended by Senior Lieutenant General Bui Quang Ben, Deputy Minister of Public Security; Vo Van Thuong, Standing Deputy Party Secretary of the HCMC Party Committee.
Major General Le Dong Phong, head of the municipal Police Department's investigation security agency, said that last year, police force handled and reduced criminal cases. Murder cases decreased by 6, robbery down by 34 cases, plundering slumped by 21 cases and thief by 130 cases.
No more homeless drug addicts use drug in public places as the city sent them to social rehabilitation centers reported, contributing to maintain the city security order, said Mr. Phong.
Senior Lieutenant General Bui Quang Ben lauded the achievement that police officers in the city gained in last year. These will contribute to improve the city's sustainable socioeconomic growth.
On the occasion, the city's department of drug investigation was awarded the second victory medal and four police excellent officers were given the third victory medals. 22 police stations received honor flags from the Ministry of Public Security and merit certificates of the city People's Committee.