Ho Chi Minh City saw an increase and expansion in the number of new established businesses, retail goods and service revenues, industrial production scale, international visitors and foreign direct investment (FDI), said city People's Committee chairman Le Hoang Quan at a socioeconomic estimation meeting on Thursday.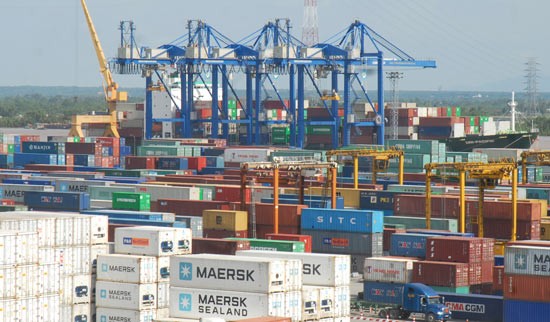 A seaport in HCMC. The city's economy continued growth momentum in the first eight months this year (Photo: SGGP)
New established firms saw a year on year increase of 31.8 percent in number and 45.6 percent in registered capital as of August 20 to hit 20,206 and VND128,599 billion.
Besides, over 28,200 firms registered to change their trading contents with an additional capital of VND84 trillion.
Goods and service retail revenue was estimated at VND437.05 trillion, up 11percent over the same period last year.
Industrial production index hiked 6.8 percent, it was 6.5 percent a year ago.
The number of international visitors to the city reached 2.83 million, up 5 percent against a year back, bringing VND60,741 billion in returns, up 4 percent.
353 FDI projects had been licensed at US$2.32 billion by August 20, increasing 46.5 percent in number and 2.2 times in capital.
In addition, 106 FDI projects supplemented US$466.5 million of investment capital, up 2.3 times.
Mr. Quan instructed related agencies to continue making efforts to obtain socioeconomic development targets set for this year. They should focus on assisting businesses to expand production and trading and solve difficulties in the rest months of the year.
He asked the Department of Planning and Investment to boost licensing and investment procedure reform to facilitate FDI attraction, especially in hi-tech and eco friendly technology fields for high added value and sustainable development.