At the eighth session of the Ho Chi Minh City People's Council on December 7, the meeting closed with a majority of delegates voting to pass a resolution on socio-economic tasks for the City in 2013.
After a three and a half days working session, the HCMC People's Council approved a resolution on socio-economic development for 2013, aiming to record a GDP growth rate of more than 9.5 percent.
Under the resolution, the City will strive to raise its GDP per capita to US$4,000, mobilize social investments to more than VND248,500 billion, or 36 percent of GDP, and increase the export growth rate to 13.5 percent.
It will also reduce the poverty rate to 2.32 percent and the unemployment rate to less than 4.8 percent. In the coming year, 89 percent of urban residents will have access to clean water and traffic congestion will ease.
The resolution also set targets to control occurrence of traffic jams to not more than 30 minutes, cut down 10 percent traffic accidents, and reduce the death toll and number of injuries due to traffic accidents.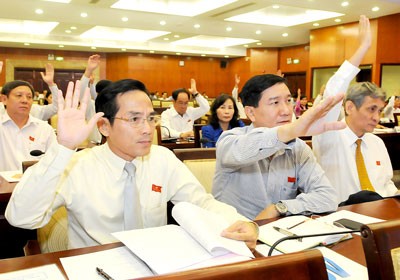 The HCMC People's Council deputies at the session (Photo: Kim Ngan)
The city authorities will also strive to erase the seven out of a total 18 serious flooding spots in the City.
Speaking at the closing session, the Chairman of the HCMC People's Committee Le Hoang Quan said, besides achievements, HCMC also failed to complete some important indicators. The unsafe street security also makes city dwellers nervous, robbery crimes, social evils have increases and become complicated, and the living conditions of employees and laborers are more difficult.
HCMC Mayor Le Hoang Quan stressed the importance of controlling inflation, increasing investment efficiency, stabilizing financial markets, and protecting the environment.
He also highlighted the need to alter underlying economic structure, increase State management, combat corruption, and ensure social welfare.
As head of the HCMC People's Committee, Chairman Le Hoang Quan accepted responsibility for the management, administration, limitations and weaknesses of his organization, stating-- "on behalf of the City People's Committee, I take full responsibility for the weaknesses, shortcomings existing in the management and administration."
Speaking at the meeting, HCMC People's Council President Nguyen Thi Quyet Tam also expressed her belief that after the council meeting, authorities will soon implement solutions, programs and measures to improve the City socio-economic situation in 2013.