Ho Chi Minh City Television will begin broadcast in November of a commentary on Marxist-Leninist principles to mark the 80th anniversary of the Communist Party that falls on February 3.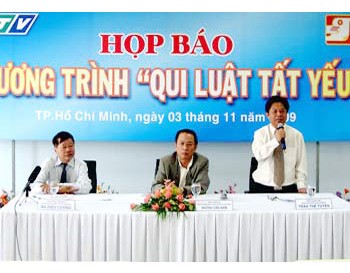 SGGP Editor-in-chief Tran The Tuyen speaks at a press conference October 3 to introduce "A necessity," a commentary program on Marxism-Leninism to be shown by HTV (Photo: SGGP)
Speaking to the media on November 3 about the series called "A Necessity," the General Director of the HTV, Huynh Van Nam, said: "The program has been developed by HTV based on SGGP's recent series of articles on 'The Marxist-Leninist doctrine and socialism: A trend or a necessity?'"
Many renowned researchers have taken part in the program, which examines the Marxist-Leninist doctrine through the prism of major Vietnamese and global events.
It will feature 38 episodes, each focusing on a different issue and lasting five to 10 minutes.
It will be broadcast at 7:40 pm on Tuesdays, Thursdays, and Saturdays from November 7, 2009 to February 3, 2010.
The program will analyze the causes of the collapse of the Soviet Union and other socialist countries in eastern Europe, analyze the revival of socialism in South America, comment on ethnic and religious conflicts using the dialectical method, and spotlight the nature of capitalism by focusing on global financial crises and recessions.
The producers believe it will be interesting, easy to understand, and convincing.
The program would be objective and would not sidestep issues raised by some forces hostile to Vietnam, they promised.