Party Committee, People's Council, People's Committee and Fatherland Front Committee of Ho Chi Minh City and Tien Giang province yesterday summarized a socio- economic cooperation program of 2009- 2016 and announced a cooperation agreement between the two localities in the period of 2017- 2020.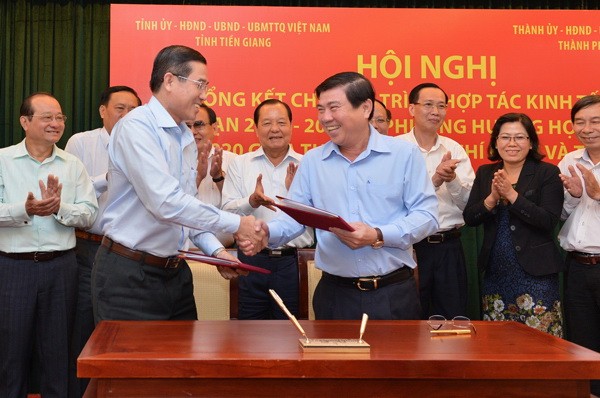 HCMC and Tien Giang co- sign a mutual cooperation agreement in the period of 2017- 2020.
Attending in the event were former Secretary of HCMC Party Committee Le Thanh Hai, Deputy Standing Secretary of HCMC Party Committee Tat Thanh Cang, HCMC People's Committee Chairman Nguyen Thanh Phong, Deputy Secretary of Party Committee of Tien Giang Vo Van Binh and People's Committee Chairman of Tien Giang province Le Van Huong.
Speaking at the ceremony, chairman Nguyen Thanh Phong strongly affirmed HCMC always strengthens cooperation with provinces and cities across the country, including Tien Giang, which is a Mekong Delta province and major economic zone of the southern region.The city will try to deepen further long- term connection between two localities.
In past seven years of 2009- 2016, the city created the best favorable condition to attract start- up enterprises and investors of Tien Giang province; encouraged the city companies to seek investment and business opportunities in the Mekong Delta province in the fields such as agriculture, industrial process, tourist exploitation of the province, shared Mr. Phong.
In previous time, Tien Giang has attracted 44 investment projects of Ho Chi Minh City with total capital of VND 12,000 billion. Tien Giang Enterprises Club has been also established in Ho Chi Minh City.
The cooperation agreement of 2017- 2020 signed will create motivation for the development of two localities.
Vice director of the HCMC Planning and Investment Department Ms. Tran Thi Binh Minh said the cooperation content will focus on developing of socio- economy, agriculture, industry, transport, science and technology, health and travel.
Speaking at the summary ceremony, deputy standing secretary Tat Thanh Cang highly appreciated cooperation efficiency of Ho Chi Minh City and Tien Giang in previous years. Currently, Tien Giang is Ho Chi Minh City's the leading fruit and vegetable supplier.
The leader also asked Saigontourist surveys and exploits tours by the river and land from the city to Tien Giang to welcome more and more domestic and international arrivals.
Some cooperation results between HCMC and Tien Giang in 2009- 2016.
Tien Giang Enterprise Club was established in Ho Chi Minh City.
HCMC enterprises invested 44 projects into Tien Giang with total capital of VND 12,000 billion.
Tien Giang built six stores to provide safe sea food and agricultural products for the city
Many constructions of market and supermarket were built in Tien Giang
Two localities planned developing the Tan Thanh Sea Tourism Area with 80 hectares of land, Mekong River Side and Resort Mekong Lodge.
The HCMC enterprises cooperated and invested traffic and transport constructions with total investment capital of VND over 1,000 billion such as My Tho Port, Ngu hiep and Tan Long Ferry...