Ho Chi Minh City is expected to start building the first Bus Rapid Transit (BRT) route by 2017 at a total cost of US$137.5 million, said director of the Urban Traffic Works Investment Management Board Luong Minh Phuc at a seminar in the city on Thursday.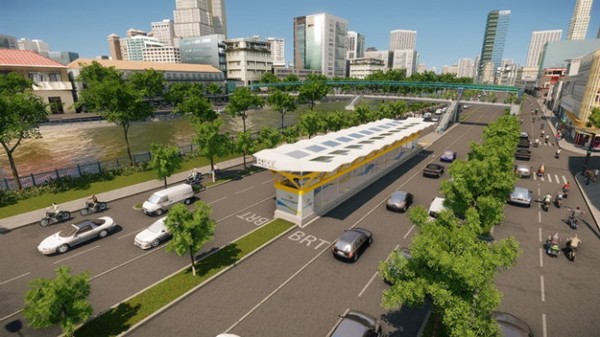 The model of BRT route Vo Van Kiet-Mai Chi Tho
Of the total capital, the World Bank will provide US$124 million in loans and the remaining fund will come from the city's budget.
According to Mr. Phuc, the board who is the project's investor is working on designs of the project and choosing contractors.
The BRT route will stretch 23 kilometers from Vo Van Kiet Boulevard to Mai Chi Tho Street with 28 bus stops and 17 overhead bridges comprising 11 new and six upgraded ones.
28 BRT buses filling compressed natural gas will go through districts 1, 2, 5, 6, Binh Tan and Binh Chanh.
The project is scheduled to be done one year after breaking ground.
On the same day, the Department of Transport said that the city People's Committee has approved construction of an underground parking lot at the football ground of Tao Dan cultural park under BOO (Build-Own-Operate) contract.
Total investment capital will approximate VND964 billion (US$43.23 million).
The work will include one ground floor for football ground and four underground stories. Of these, storey B1 and B2 will be for commercial activities and B3-B4 for semiautomatic parking lots, which can accommodate 1,198 automobiles and 896 motorbikes.
Construction will start from now until 2017.
The department also revealed that the People's Committee has passed the feasibility report of two waterway bus routes under BOO form.
The first route will depart from Bach Dang wharf to travel along 11 kilometers of Saigon River and Thanh Da Canal to reach Linh Dong Ward in Thu Duc District. It will comprise 7 stations and run through districts 1, 2, Binh Thanh and Thu Duc.
The second one Bach Dang-Lo Gom will travel along Saigon River, Ben Nghe and Tau Hu Canals to reach Lo Gom wharf in district 6.
The 10. 3 kilometer route will have seven stations in districts 1, 4, 5, 6 and 8.
They are expected to start construction this year and open for service next year.