Ho Chi Minh City has declared 2011 as 'Year for children' and the city has plans to build 10 new amusement parks for children during the year, but concerns are now being raised as many of the parks are still not complete.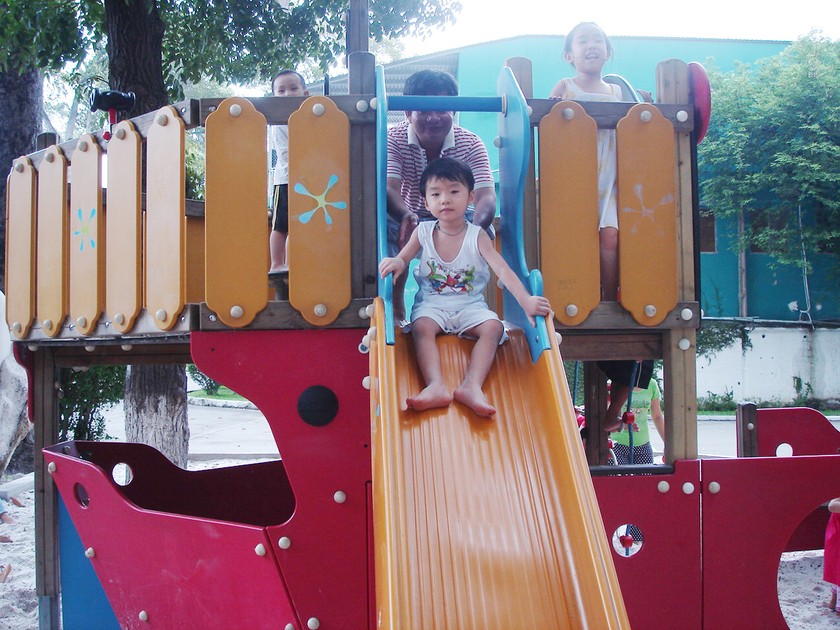 Children enjoy the playground in Tao Dan entertainment park (Photo: U. Phuong)
The city planned to build recreation parks for children in Tao Dan, Le Van Tam in district 1, Gia Dinh in district Phu Nhuan, Le Thi Rieng in district 10, Phu Lam in district 6 and Go Vap and in the suburban districts of Binh Chanh, Nha Be, and Can Gio.
Construction on three of the parks is complete and children are already using the playgrounds for fun activities in districts 6, Binh Chanh and Nha Be.
Such parks are a boon for parents who can take their children to enjoy activities in the park without having to spend any money.
One mother in the suburban district of Binh Chanh, said since the recreation area opened, her children were having a whale of a time by amusing themselves and she was able to save more than VND100,000 each month.
Recently, Hua Ngoc Thuan, deputy chairman of HCMC People's Committee admitted that the construction progress on the remaining playgrounds was very slow and ordered relevant agencies to speed up the process.
Worries are also growing on the maintenance of these amusement parks, as some of them have already been downgraded very shortly after construction. One free amusement park built in district Binh Chanh 9 year ago is in a complete state of neglect now.
People are wondering whether the other parks will meet the same fate. Some believe that they will be well maintained as the city has called for 30 percent contributions for their construction.
Investors will be able to maintain the playgrounds. Nevertheless, the public continues to be concerned as all recreation facilities are outdoors, without protection from rain and the elements.
Currently, the city has around 1.7 million children, who all need playgrounds and amusement areas. The city that takes care of its children also must pay heed to their growing-up stage. Hence a lot of attention must be given to the maintenance as well as the construction of such spaces or the entire effort will go waste.