The two construction projects for underground parking lots on Nguyen Hue Boulevard and Nguyen Du Street, District 1 should be cancelled, said the HCMC People's Committee.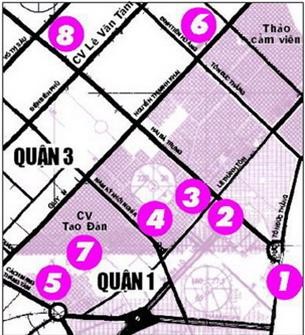 The eight locations for the underground parking lot construction projects in HCMC
The proposal was made due to fears that the zoning of an underground parking lot on Nguyen Hue Street will attract more vehicles to the area, while the long term goal is to turn it into a walking quarter.

Hanoi-based Dong Duong Company has completed its report on the feasibility of a similar project on Lam Son Square, District 1.

The city's People's Committee also showed concern about a similar construction project in Le Van Tam Park. The project's investor, Underground Space Development Investment Joint Stock Company (IUS), was asked to find the most suitable design for the specific location, and to guarantee sufficient green space and the preservation of the surrounding scenery. The company was also granted the right to conduct business on the location.

The construction of underground parking lots was the city's answer to the increasing need of parking space in HCMC.

The city which has some 300,000 cars and three million motorbikes, needs 250 hectares of parking space. But it now has only 10 parking lots with a total area of less than 8 hectares.

Along with the Nguyen Hue underground parking lot, there are seven other projects, including Le Van Tam Park, Hoa Lu Stadium, Tao Dan Stadium, and Bach Tung Diep Park, Chi Lang Park, Nguyen Du Street, Lam Son Square funded by investors IUS, the HCMC-based T.T.C. Company, the Hanoi-based Indochina Company, and other corporations.