Inspectors from the Ministry of Transport will conduct thorough checks on operations of nine taxi companies in Ho Chi Minh City on November 22 to ensure they meet transport regulations.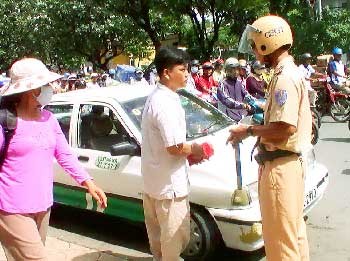 A transport police official slaps a cabdriver with a fine for operating a falsified cab in HCMC (Photo: SGGP)
The nine taxi companies to be inspected include Mai Linh Taxi, Taxi Vietnam (Vinasun), Taxi Saigon Petrolimex, Duc Linh Private Company, Hoang Long Taxi, Phuong Trang Taxi, Tourism Transport Co-operative No.2 and the Minh Duc Tourism Transport Co-operative.

According to Le Manh Hung, Deputy Minister of Transport, inspectors will do a thorough search of any misappropriation by these taxi companies and their drivers, such as overcharging or installing of fraud meters. The focus will be to inspect business management activities, business license registration, satisfactory business environment and good management of taxi operations, Hung said.

Hung said that HCMC will take drastic action and ban taxis that violate regulations.