This year will see Ho Chi Minh City carry out a number of programs related to climate change adaptation, Dao Anh Kiet, the director of the city Department of Natural Resources and Environment, has said.
In a recent interview with SGGP, Mr. Kiet – who is also deputy head of the Standing Board of the HCMC Steering Committee for Climate Change Mitigation and Adaptation – said the city would give priority to expanding public transport, limiting personal vehicle use, saving lighting energy, and recycling programs.
According to reports from the city Sub-department of Environmental Protection, vehicle exhaust is one of the main causes of pollution in the city. It is also among the top factors that have led to global warming, Mr. Kiet said.
Therefore, plans for boosting public transit will be carried out soon, he said.
In order for the scheme to succeed, it should be developed in parallel with plans to limit the use of personal vehicles, Mr. Kiet added.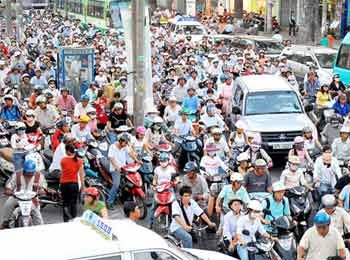 Traffic jam seen in HCM City (File photo: SGGP)
Carrying out such initiatives could lead to significantly less traffic congestion during rush hours in the city.
Saving energy in public lighting is also an important target this year, said Mr. Kiet. "Our department is planning to work with the Department of Transport to seek solutions to save power in public lighting."
Vietnam's electricity supply is sourced mainly from fossil fuels and hydrothermal projects. Cutting down on the use of such sources could make great contributions to environmental protection and preventing further climate change, Mr. Kiet said.
Recycling is also among the city's top concerns, he said. "Recycling garbage will help save land needed for garbage burial, thus boosting the efficiency of land use and environmental protection," Mr. Kiet added.
To facilitate recycling programs, garbage needs to be classified properly when it is first disposed of, he said.
"Our department has deployed recycling programs in most districts and a series of garbage recycling plants have been put into operation," he added.
When asked about funding and other assistance for such programs, Mr. Kiet said the city would seek financial support from foreign non-governmental organizations.

Recently, HCMC was admitted to the C40, a prestigious environmental-oriented organization of large municipalities worldwide that aims to adapt to and mitigate impacts of climate change.
Vietnam will learn from others' experience and cooperate with C40 members to boost the country's environmental protection activities, Mr. Kiet said.
In addition to C40, HCMC will seek support from other international organizations, he added.
"Since environmental protection is a global issue, many foreign non-governmental organizations are ready to cooperate with developing countries, including Vietnam, as long as we initiate feasible projects," said Mr. Kiet.
In terms of coordination between city agencies, he said that the Department of Natural Resources and Environment would consult other departments, scientists and experts to improve its climate change adaptation programs before putting them into operation.
When asked whether the city has enough experts and skilled workers to conduct the programs successfully, Mr. Kiet said that personnel training has been included in the plans between the city, C40 and other international organizations.