Ho Chi Minh City's climate condition is very advantageous for the development of tropical ornamental plants whose growing area has quickly increased recently. However there is no trading center for these products causing difficulties for suburban production units in supplying their products to consumers.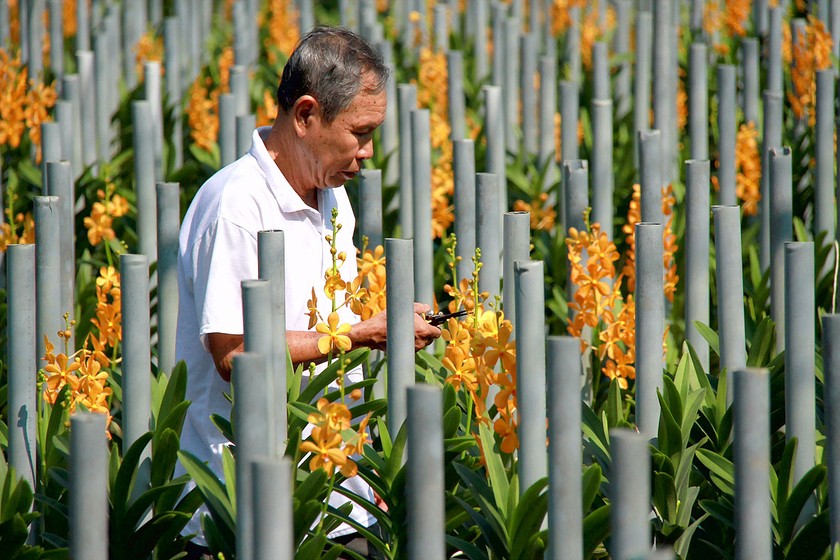 A farmer in his orchid garden in Cu Chi District (Photo: SGGP)
The growing area of ornamental plants especially orchids has quickly increased from 848 hectares in 2005 to 2,130 hectares in 2014.
In the 2000s HCMC imported about four million orchid stems a year from other nations and territories such as Thailand and Taiwan (China). The import volume has fallen to 960,000 stems a year now and local businesses have exported orchid stems to Cambodia.
Being determined as a key agricultural district in HCMC, Cu Chi has established several 2-4 hectare flower farms. Urban agriculture has become a new movement spreading to Southeast provinces including Tay Ninh where HCMC investors have built a five hectare orchid farm in Trang Bang District.
Growing orchid supply has caused pressure on consumption. As a result the city has paid heed to trade promotion for this product.
The city has at least 270 spots trading ornamental fish and over 1,000 spots selling ornamental plants which are likely to further increase. However they have been opened in a spontaneous and provisional manner.
HCMC Association of Ornamental Plants and Animals has proposed to build a trading and service system to facilitate the supply and consumption of ornamental plants and fish.
At first the city can establish three two-hectare trading centers at suitable places and put up a retail system in districts especially in densely populated portions, it said.
In long term, city authorities have in fact thought about building an exhibition and trading center for ornamental plants and fish and planned a farm produce trading and exhibition center in Cu Chi District.
At present, it is necessary to form an ornamental plant and fish trading center near the city's downtown areas.
HCMC has tasked Saigon Trading Group (Satra) to work with Dutch Center for the Promotion of Imports from Developing Countries (CBI) and FloraHolland Group, specializing in hosting flower exchange floors in the Netherlands, to build an ornamental plant and fish trading center at Binh Dien wholesale market in District 8 over an area of 8-10 hectares.
Binh Dien has become one out of few wholesale markets consuming flowers from HCMC suburban districts and other localities such as Da Lat city.
Under the project, Satra will run the center to bring together flower growers and consumers creating conditions for products to be sold at their right value. The company will also provide logistics services in transportation and cold storage to ensure flower quality.
Deputy Chairwoman of HCMC People's Committee Nguyen Thi Hong said that the center will be built in two phases. The first phase will permit only direct transactions. In the second phase consumers can buy and make payment online.
The Netherlands has built its world largest flower exchange floor for the last few decades. With their assistance the city hopes to shorten the building time of the center, she added.
Representative of the Dutch -Simon Van Der Burg said that Vietnam should learn from Dutch flower exchange floors to create a particular and suitable modal for the country. The new modal will not create immediate and basic changes but it is considered as the first elements for building the ornamental plant and fish trading center.
Related article:
HCMC agricultural restructuring brings many successes