The Ho Chi Minh City People's Committee has approved a build-operate project to broaden Nguyen Duy Trinh Street to connect Phu Huu Seaport with surrounding main roads and reduce traffic pressure to Cat Lai Seaport, said director of the Department of Transport Bui Xuan Cuong on Sunday.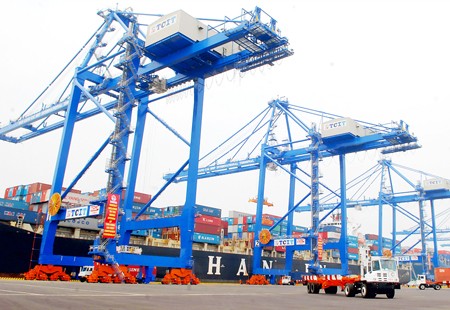 Cargo loading at Tan Cang Seaport (Photo: SGGP)
According to the department, the 1.6 kilometer long road is only 7 meter wide with two lanes. The project will increase exploitation effectiveness of Phu Huu and Cat Lai seaports in eastern HCMC, making them the city's key seaport group.
The Build-Operate project will meet cargo transport demand from Phu Huu Industrial Park to main roads of the city.
Total capital is expected to reach VND930 billion (US$42 million), of these VND700 billion for site clearance.
Previously, the committee had asked the department to work with the People's Committee of District 9 and Ha Tien 1 Cement Company to speed up site clearance for construction of a road to Tan Cang-Phu Huu Seaport, which is scheduled to complete by January next year.
The Urban Traffic Management Zone 2 and contractors have been instructed to step up the progress of Rach Chiec 2 Bridge in the belt road no.2 in order to open it to traffic by the fourth quarter this year.
The District 9 People's Committee should clear the site over 19.12 hectares for building of a container yard as per proposal by Saigon Newport Company.
The Transport Department and the company have been instructed to build an extra of 220 meters of new quay and upgrade 320 meters of the existing quay of Tan Cang-Phu Huu port to receive container vessels of up to 40,000 DWT.
Relevant departments should review overall plan to improve the effectiveness of seaports in eastern and western HCMC. They will be broadened to over 200 hectares with two kilometers of quays to receive 120-150 million tons of import goods a year from 2018-2020.