The Department of Planning and Architecture in Ho Chi Minh City on Monday reported that city leaders were working on a detailed plan to extend the city center area towards the Saigon River, and incorporate more area from other districts.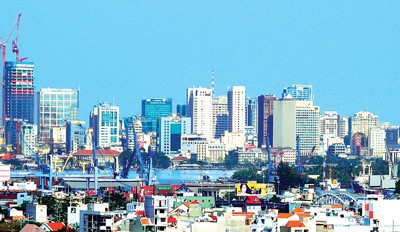 A view of the city center along the Saigon River (Photo: SGGP)
Accordingly, the density of the population and high rise buildings should be restricted in the core city center area, and investors should be lured to areas along the west bank of the Saigon River. Urban area should be extended towards the Saigon River and an underground roadway network should be developed.
As per the plan, the city center will be divided into five sectors.

The first and second sectors will be centered in District 1 and will also incorporate 92 hectares of the trade and financial center and the 212 hectare culture and history center around Le Duan Street.
The third sector will locate along the west bank of Saigon River, stretching from Saigon Bridge to Tan Thuan Bridge in Districts 1, 4 and Binh Thanh.
The 248 hectare area will comprise of several high rise buildings, and a strip of parks and public areas along the Saigon Riverbank.
A stretch of Ton Duc Thang Street will be used for walking and tramcars while other vehicles will ply on an underground roadway network.
The fourth sector will be a villa area covering 232 hectares in Districts 1 and 3; while the fifth will be the neighboring areas of the trade and finance sector covering 117 hectares in Districts 1 and 4.
Tran Chi Dung, director of the Department of Planning and Architecture, said that city leaders have basically agreed with the plan and are waiting more feedback from related districts and the Vietnam Fatherland Front in HCMC.