The Steering Committee for Response to Climate Change in Ho Chi Minh City has set two main tasks for coping with climate change for the latter part of this year, which is to focus on supply of clean water and use of eco-friendly fuel.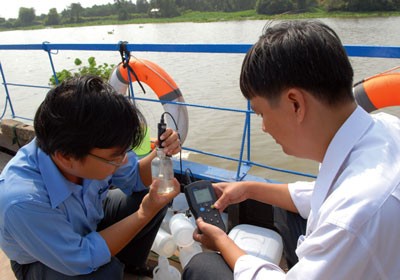 Saigon River water being taken for testing from a pumping station in HCMC (Photo: SGGP)
According to the committee, the quality of water in HCMC has deteriorated due to increasing pollution while underground water levels have continued to fall drastically.
The Environmental Technology Center reported that the Dong Nai River valley, the main water supply source for HCMC, is being fed with more than 2.7 million cubic meters of household wastewater and 1.8 million cubic meters of industrial wastewater every single day.
Contents of pollutants like BOD, COD and SS have far exceeded permissible limits.
During the remaining months of the year, the committee will pay greater attention to protecting the water supply source, developing drainage systems and improving wastewater treatment plants.
Exhaust fumes from vehicles is a main factor in polluting the atmosphere in HCMC. As a result, the Steering Committee for Response to Climate Change will focus on replacing buses using fossil fuel with ones using compressed natural gas (CNG).
The committee is now working with the Department of Transport on two projects, worth US$50 million, to provide more CNG buses and coaches. At present there are more than 30 CNG buses in operation in HCMC.