Like most other sectors, the Ho Chi Minh City office leasing industry has been hit hard by the global recession since the end of 2008.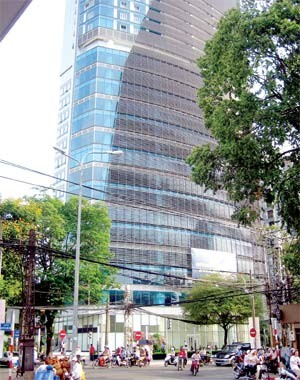 A recently completed office building on Nguyen Thi Minh Khai Street, HCMC, with a billboard announcing units are available for lease. HCMC has also been hit hard by the global recession that office space for lease is going abegging though rentals have plummeted (Photo: SGGP)
For instance, property company Sacomreal has been marketing an under-construction office building in Phu My Hung urban area since the end of last year. It says despite advertisements in many newspapers there has not been a single lease inquiry.
 
Phu My Hung could be becoming a residential and commercial hub but recently a property developer had to sell out an office building it was constructing at a discount to cut its losses.
 
New buildings cannot attract lessees while existing ones are seeing them leave in droves.
 
On Cong Hoa Street in Tan Binh District, where it is normally very difficult to find space, there are dozens of billboards advertising houses and office buildings for lease.
 
Most lessees here are South Korean or Malaysian companies and they have been the first to leave.
 
Pham Van Hai, general director of Asia Commercial Bank Real Estate Company, says 15 percent of lessees had opted out before Tet and a further 10 percent recently.
 
In some buildings 40 percent of the space is vacant. Even E-town, the biggest office building on Cong Hoa Street, has had to cut rental down to US$17 a square meter.
 
Landlords are not faring much better in the downtown area. A B-grade office building opened last year with lots of foreign lessees who paid $75/sq.m. But many are leaving now or demanding a rental cut.
 
To get worse
 
With many buildings being built, lots of office space is set to come into the market in the next two years.
 
Savills, a UK-based property group, estimates 96 percent of A-grade office space was occupied in 2008. This figure will fall when Asiana Plaza building opens this summer increasing supply by a massive 40 percent.
 
B-grade buildings, which reported 95 percent occupancy at the end of last year, will see the figure plunge when 90,000 sq.m. of space become available in the middle of this year following the construction of Sailing, Centec, Center Point, Beautiful Saigon II and Crescent buildings.
 
Savills estimates there will be 600,000 sq.m. of office space available at the end of this year and 1.6 million sq.m. in 2012.
 
For 2012, US real estate service provider CB Richard Ellis' estimate is even higher at 2 million sq.m.
 
Savills says many companies have cut back on their operations and will move to outlying areas to cut costs.
 
Brett Ashton, Savills' managing director, says buildings have to reduce rents. B- and C-grade buildings are locked in fierce competition though their rents have fallen from $60/sq.m. in mid-2008 to $30 now, he says.
 
Mr. Hai says C-grade buildings are offering at $15 but still companies do not want to rent.
 
Cushman and Wakefield, the US-based property services provider, says rents should be reduced to $10-15.