Chairman of the Vietnam Biology Association Professor Nguyen Lan Dung suggested Ho Chi Minh City to apply biological technology in agricultural development at a meeting with city Party Chief Dinh La Thang on February 13th.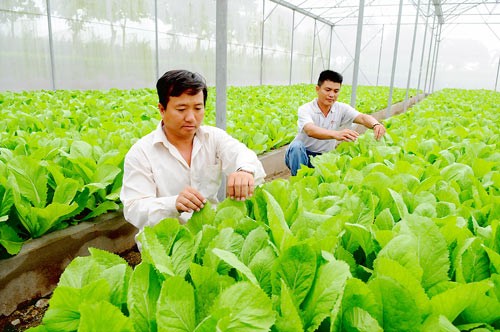 Applying biological technology in growing vegetables in outlying district in HCMC (Photo: SGGP)
Talking about the overview of the country's biological technology procedure, Professor Dung pointed out the strength and the weakness of the agriculture sector in the city and the city position in comparison with the agriculture in the world.
He mentioned the importance of the technology in agriculture as well as provided consultation of models and applications for the government rural area development  plan in HCMC.

To help improve the agriculture sector, Professor Dung proposed HCMC to set up a plan for a factory to plant seaweed in freshwater. Another thing suggested by Professor Dung was to invite Taiwanese experts who will give consultation on raising virus-resistant virus. Last but not least he convinced the municipal authority to transfer from growing rice to growing fresh vegetables in outlying districts.

Party Chief Thang thanked the professor for the his practical suggestions and asked relevant agencies and the Biotechnology Center in HCMC to work with the professor and his Association to make research and application of biology into production, aiming to improve farmers' life.

Biological technology not only plays a vital role in limiting greenhouse gas emissions from agricultural activities but also boost farm productivity which help increase farmers' income, said Party Chief Thang.

Accordingly, he asked the Association and Professor Dung to enhance researches and create genetically modified foods for long-term strategy as well as build connection between areas of growing trees and areas to process materials.

At first, the city place orders for researches on orchid seeding plants and milk cow.

Scientists should make researches on orchids seeding plants and milk cow to raise productivity, aiming to raise farmers' income especially those in outlying districts Can Gio and Cu Chi, said Party Chief Thang.