In the meeting with the Department of Tourism and related agencies held yesterday, Deputy Chairman of People's Committee Tran Vinh Tuyen ordered the tourism sector to develop specific products and invest in the city's wholesale markets to become local tourism destinations.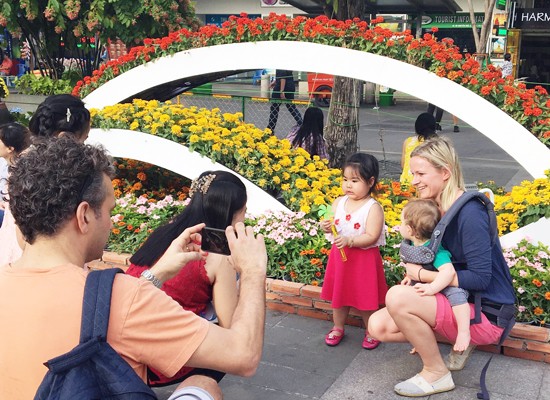 Many foreign visitors transit in Ho Chi Minh City (Photo: SGGP)
According to Mr. Tuyen, tourism products should be tours to wholesale markets like Binh Dien, Thu Duc and Hoc Mon.

Tourism Department Director Bui Ta Hoang Vu said that HCMC is an economic and financial hub of the country with many beautiful places which can attract more visitors; yet, expenditure to promote tourism is limited allocating just US$0.3 a visitor while it is $5 in other nations.
Additionally, social contribution is small but just big enterprises take heeds to the sector so the sector has lost many opportunities.

Therefore, Director Hoang Vu proposed the city increases budget for promoting M.I.C.E tourism; river tours which many enterprises including Mc Donald's, Startbuck have registered to undertake; countryside tourism; sport tourism; spa & wellness tourism; international street art tourism (for instance the Festival of Light was organized with social contribution of VND30 billion)

Nguyen Ngoc Hoa from the Department of Industry and Trade said that the sector should connect tourism products with other areas for transit holiday-makers in HCM. Additionally, the Department of Tourism needs to have a plan to focus on welcoming visitors in peak season so that the Department of Industry and Trade will co-exploit the city's rich tourism potential.
A representative from the Department of Home Affairs said that the Department of Tourism should include tourism program coincidence with APEC meeting and International Korean Cultural Festival taking place in August and September to promote the city's tourism.

Concluding at the meeting, Deputy Chairman Tuyen stressed that since the beginning of 2017, the city has welcomed over 500,000 holiday-makers, an increase of 70,000 visitors compared to the same period last year; accordingly it can reach the goal of receiving more than 6 million international tourists in 2017. Related agencies and departments should consider the sector as key factor for economic development.

The entire machinery of state must add the tourism activities in its activities and each department should formulate a long-term development framework for the city's tourism. River tourism should be highlighted because it is the municipality's strengths.

Mr. Tuyen stressed each district should have its own tourism products such as district 5 with the Oriental Medicine Quarter, and district 1 with walking street. The Department of Home Affairs must have tourism program connecting with expats' activities. After all, the departments should link together due to the city's tourism development...