Business assistance would be reformed towards actively supporting businesses instead of waiting for them to seek assistances, affirmed director of the HCMC Department of Industry and Trade Pham Thanh Kien on December 30.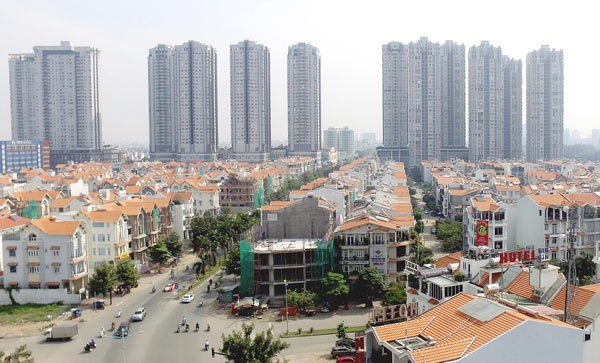 A new urban area in the adjacent area between District 7 and Binh Chanh (Photo: SGGP)
He was speaking at a conference presided over by chairman of the city People's Committee Nguyen Thanh Phong to implement socioeconomic missions next year. At the event, agencies put forward a slew of solutions to boost socioeconomic growth.
According to Mr. Kien, HCMC have made a lot of efforts to encourage startups and assist enterprises but the real number of companies enjoying preferential treatments from the city has been few.
In 2017, his department would create more information channels including soft wares and faebook to boost business support activities and permit citizens and businesses to do 100 percent of administrative procedures online. So far, 80 out of 103 procedures of the department have been solved online, he reported.
Over 1,000 premises scheduled to go under hammer
Reporting at the conference, director of the Department of Finance Phan Thi Thang said that among 63 province and cities, HCMC is the largest contributor to the state budget.
From next year, HCMC will keep 18 percent of its revenue instead of 23 percent as before after the PM suggested the city to share difficulties with the Government.
That was a challenge for the financial industry requiring it to have drastic solutions, said Ms. Thang.
She proposed a lot of measures to deal with budget strain for the city comprising estimation of state-owned houses and land use to create revenue source for development investment.
Specifically, she said that HCMC should review 1,033 premises including houses and land pierces and quickly complete procedures to auction them in line with approved projects.
Of these, 245 premises belong to the city's management and 788 ones belong to districts.
In addition, the financial industry leader proposed to take a look at the resettlement house fund in the city to auction those that have not been used. This aims to reclaim budget capital spent on constructing resettlement projects and prevent them from being downgraded and wasteful.
Spending should be seriously tightened, Ms. Thang said. The city's spending missions should be conducted in the order of priority.
Agencies should manage expenditure and public assets within their jurisdiction according to estimates which the Government has approved and practice saving in their activities including public car use.
Ms. Thang also referred to solutions to intensify the auction of public services such as bridge and road maintenance, lightning system and environmental hygiene. Besides, bus service quality should be improved to reduce budget spending on bus subsidization.
Police to receive crime reporting information on social network
Lt. Gen Le Dong Phong, director of the HCMC Police Department, said that the city police would receive information denouncing crimes from citizens through social network.
According to Mr. Phong, that is one of many measures to reduce crimes next year. The department will consult for the Ministry of Public Security and the city Party Committee as well as People's Committee to strengthen IT application in public order management.
The city police will speed up equip modern devices to connect camera system to its command center, strongly invest in direct crime combat force and giving the top priority to special criminal force.
Another solution is to strengthen the coordination among criminal, mobile, traffic and 113 police forces to efficiently suppress criminals.
City to give funds priorities to key projects
Chairman of the HCMC People's Committee Nguyen Thanh Phong said that next year HCMC will give capital priorities to key projects to remove canal houses, relocate citizens from these areas, rebuild downgraded apartment blocks, implement social housing projects, improve quarters with low roofed houses and attract capital to develop new urban areas.
Besides, the city will urgently complete procedures to soon start work on projects to reduce traffic jam in Tan Son Nhat International Airport and Cat Lai Seaport, and solve badly flooded spots including the airport area.
The city will also soon put into operation the management board on food safety and hygiene.