Ho Chi Minh City Party Committee Secretary Le Thanh Hai November 9 asked the city's senior Party and Government officials and relevant agencies to take tough measures to stabilize market prices, following hikes in gold and consumer goods prices, and exchange rates.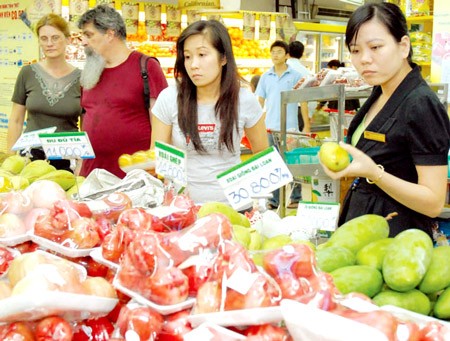 Shoppers at a Co.op Mart supermarket on Cong Quynh Street, Ho Chi Minh City's District 1 (Photo: SGGP)
He asked the city People's Committee to continue implementing its subsidized loan policy to keep prices of essential goods stable.
 
District Party committees were asked to order relevant agencies to monitor the market, penalize strictly and promptly violators of price-related regulations, strengthen measures to prevent speculation, which creates a fake shortage of goods.
 
On the same day, chairman of the HCMC People's Committee Le Hoang Quan ordered the director of the Central Bank branch in the city to announce the Government's monetary stabilization policies which are aimed to stabilize the city's socioeconomic situation.
 
The committee has instructed the city's Industry and Trade, and Market Management departments to cooperate with the city's Customs Office, relative agencies and district People's committees to detect promptly individuals and organizations who speculate goods, smuggle gold and US dollars, and start false rumors which cause worries to people.
 
At a press meeting on Nov. 9, Ho Huu Hanh, director of the Central Bank branch in HCMC denied rumors of devaluation and currency change.
 
Speaking exclusively to Sai Gon Giai Phong, the city's vice chairwoman Nguyen Thi Hong said many solutions will be adopted to control prices and stabilize the market till the end of this year.
 
She said the Industry and Trade Department will keep a close watch on the market to ensure sufficient supplies of goods and prevent speculation and price hikes.
 
The department will strengthen inspection on preparations of essential goods by enterprises that have been joining the price stabilization program, goods quality and distribution network.
 
The department will work with districts to open stores at traditional markets and residential areas to sell eight price-stabilized staple goods, including rice, sugar, cooking oil, red meat, poultry, poultry eggs, fruits and vegetables, and processed foods.
 
Meanwhile, the Finance Department will monitor closely prices, especially milk prices.
 
Management boards of markets will check and ensure that vendors sell their goods at fixed prices.