The Ho Chi Minh City Department of Labor, Invalids and Social Affairs, relevant agencies and districts' leaders yesterday discussed how to handle beggary in public places.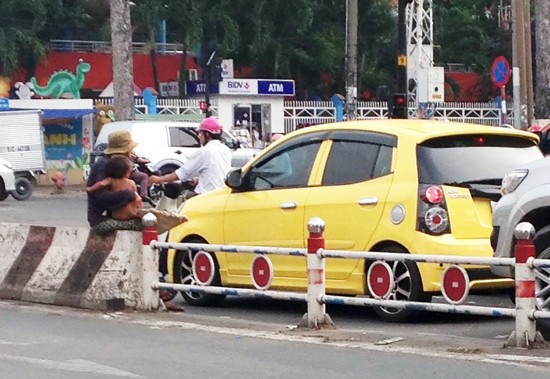 Beggars in HCMC (PHoto: SGGP)
The meeting was convened to adopt measures against beggary according to Secretary of the local Party Committee and member of Vietnam's Politburo Dinh La Thang's request.

Le Chu Giang, head of the Department's Society Sponsorship Division, repeatedly said that 80 percent of beggars come from several cities and provinces; accordingly HCMC should work with these cities and provinces to thoroughly handle the problem.

HCMC's district administrations must also pay attention to the issue as 20 percent of beggars are HCMC residents. If a household in HCMC has a beggar, local government must provide support to the family including offering jobs to them as the city has social security programs which can help all people; hence there is no reason that the city has beggars.
The Department will set a target to eliminate beggary before April 30. Beggars will not be seen in the city's downtown and districts. The department has set up a hot line (08) 38.292.491 (in office hour), 0903.959.929 and (08) 35.533.258 (working around the clock) to receive information of beggars.

An increase of beggars who disguised as badly ill people or monks, lucky lottery sellers are seen in the city. From December, 2014 when the city handled drug addicts and beggars, the Social Sponsorship Center under the Department of Labor, Invalids and Social Affairs admitted 2,285 people and most of them asked to return home.

The matter should be therefore solved in the root. Those asking to return home usually reverted to beggary. Local authorities should provide wheelchairs to disabled people who need the vehicle. Ill people will be sent to medical clinics for treatment and financial aids to return homeland.
The Department confirmed the municipal Buddhist Association has not allowed monks to beg for food along streets; therefore most of monks in streets are fake monks; local authorities can strictly give harsh penalties on them.
Additionally, local administrations must pay attention to rings which forced kids and elderly people to beg to take money; local administrators keep an eye on rented house with many kids and old people.

The city will apply the way which the Central City of Da Nang had launched – giving money to those who detected beggar and inform the hot line. VND200,000 will be given to those informants as reward.