The Vietnam-Russia Investment Joint Stock Company will begin construction of the Ho Chi Minh City Trade Center in Moscow in the middle of this year's 3rd quarter, the company's General Director Pham Hong Minh said.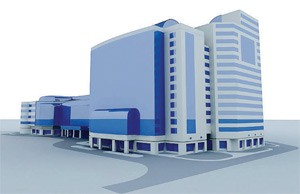 HCMC Trade Center will be built in Moscow in this year's third quarter
Mr. Minh added that two more shareholders, both commercial joint stock banks, have contributed VND 50 billion (about US $3 million) to increase the company's chartered capital to VND 100 billion.
 
The company, which was established in 2003 as part of a trade cooperation project between HCMC and Moscow, has eight shareholders now.
 
The seven storey US $100-million complex will include a restaurant, hotel, market, entertainment area and office building.
 
With a cost of US $35 million, the first phase of construction will cover 30,000 square meters.
 
After the center is built, at least 2,000 Vietnamese vendors will have a place to legally sell their goods.
 
The trade center will be an important step in boosting Vietnamese exports to Russia and other Eastern Europe markets, and will be a showcase for Vietnamese culture in those countries, said Mr. Minh.
Related article:
HCMC Trade Center to Be Built in Moscow