Experts now warn that HCMC could stand to lose its position as an attractive foreign investment destination due to its worsening traffic and environmental pollution. The city's alarming traffic congestion has shown no signs of improvement despite more efforts to curtail the problem this year.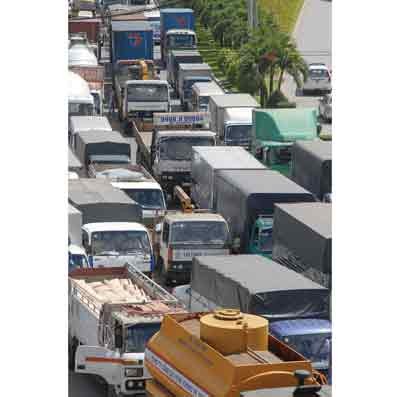 A traffic gridlock on Nguyen Huu Canh Street, HCMC. Experts say the city's continuing congestion could deter foreign investment. (Photo: SGGP)
Since the beginning of 2009, the city has seen 56 significant traffic jams excluding many more caused by flooding and construction work.
September witnessed two severe gridlocks on the 7 and 21 which lasted three hours, while October 21 saw hundreds of thousands of people stuck in another jam.
Previously, gridlocks occurred most frequently during rush hours and on certain roads. Lately, however, traffic has become more congested in inner districts like 6, 12, Go Vap, and the Hanoi Highway. Residents, meanwhile, say they are at a loss to understand why authorities have not found better solutions.
Truong Quang Thong, a resident living near the city's Cay Go roundabout in District 5, 6 and 11, said the area sees four to six major traffic jams a day from 6-9PM. Thousands of vehicles can also be seen stuck in gridlocks between the streets of Minh Phung, 3/2, and Hong Bang. Buses heading from the Cho Lon bus station to the southern provinces only worsen the situation.
Snarl-ups are also common along Nguyen Van Cu-Nguyen Trai and Cong Hoa-Truong Chinh streets.
Traffic from the city's major roadways also spills over into smaller streets and alleys creating a domino effect. Gridlocks along Cach Mang Thang Tam Street in District 10 and Truong Chinh in Tan Binh District, for instance, lead to an overflow of traffic on Nguyen Thai Binh, Xuan Hong, and To Hien Thanh streets in Districts 10 and Tan Binh respectively.
The negative effects of such congestion are numerous. Besides the pollution caused by hundreds of thousands of idling vehicles every day, officials say the problem also affects the country's economy in terms of poor worker health and lost hours of productivity.
According to environmental experts, the density of carbon dioxide (CO2 ), pollutants and other toxic gases in the city have been rising at an alarming degree, sometimes 10 times above safe levels at areas where traffic jams occur. Inhaling such gases can contribute to respiratory diseases, cancer and a host of other health problems.