The Department of Transport is looking at various options to regulate daytime traffic entering the city center in an effort to control heavy traffic jams within Ho Chi Minh City.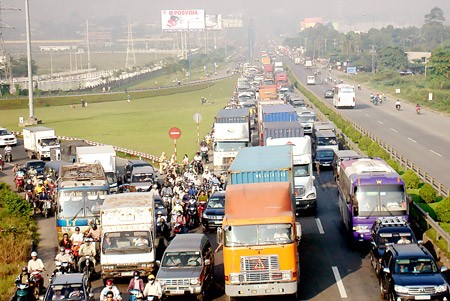 HCMC considering measures to reduce traffic congestion in the city center (Photo: SGGP)
One option is to allow automobiles with even license number plates to enter into the city center on Monday, Wednesday and Friday weekdays. Automobiles with uneven license number plates can enter on Tuesday, Thursday and Saturday while all automobiles can enter on Sunday.
Should this option work well, the city center will see a great reduction of traffic jams and unruly chaos on the city roads.
According to Associate Professor and Dr Pham Xuan Mai from the HCMC University of Technology, the above measure needs implementation, especially in a city like HCMC with a large number of private cars.
At present, the city roads can only cope with 30-40 percent of the existing vehicles. As a result, the above measure will help to tackle the chaotic traffic congestion in the city.
This same method has been successfully applied in many countries including the US, Singapore and China and has yielded good results.
Dr Mai said to make the project feasible and get residents to agree with it, the city should initially carry out a pilot test on some routes in the city center. The city should also develop an automated monitoring system to supervise the license number plates.
Engineer Ha Ngoc Truong, Deputy Chairman of the HCMC Association of Bridge, Road and Port shared Dr Mai's views and thought it necessary to restrict individual automobiles from moving into the city center as an effective method to manage the long-standing problem of traffic jams.
Several experts said that the city itself should form a specific program to implement this project.