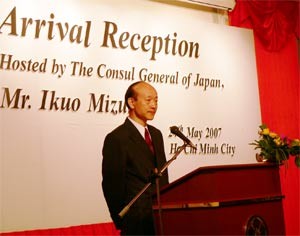 Mr. Ikuo Mizuki, the new Japanese Consul-General to Ho Chi Minh City speaks at his arrival reception. (Photo:TK)
Mr. Ikuo Mizuki, a former Minister of the Japanese Embassy in Poland, hosted his first reception as the new Consul-General to Ho Chi Minh City. The event was attended by municipal leaders and other foreign consuls to Viet Nam.
Speaking at the reception, Mr. Mizuki praised Japanese-Vietnamese relations saying, "At the central government level, relations between Japan and Viet Nam have evolved a great deal over the last decade and have been strengthened by many high level visits between the two countries in recent years".
Regarding the development of Ho Chi Minh City, he said the city faces some serious challenges, such as a lack of good infrastructure. He went on to say that the Japanese government has committed itself to take part in the development of the city's first subway line, which will not only significantly improve the mass transit system but also become a symbol of cooperation between the two countries.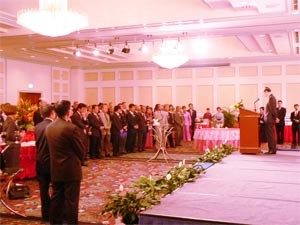 The reception is attended by municipal leaders and many other foreign consuls to Viet Nam. (Photo:TK)
The new Consul-General also expressed his happiness at seeing higher and higher levels of direct investment in the country by Japan's private sector. Japan currently holds the number one position in terms of total amount invested between 1988 and 2006 (US$ 4.8 billion). As in May this year, about 365 Japanese companies have joined the Japanese Business Association of Ho Chi Minh City
Japan has also been the largest donor of Official Development Assistance (ODA) to Viet Nam and has been proudly carrying out a number of important large-scale projects here such as the new terminal at Tan San Nhat International Airport and the East-West Saigon Highway Project.
"These achievements resulted from efforts made by many people, so we should not become complacent. We should strive to further improve the business environment here and develop a safe, comfortable life for both local residents and tourists," he concluded.