The Fuji Maru ship carrying 329 young delegates from 10 ASEAN countries and Japan docked at Saigon port in Ho Chi Minh City on December 4 on a four day visit to Vietnam.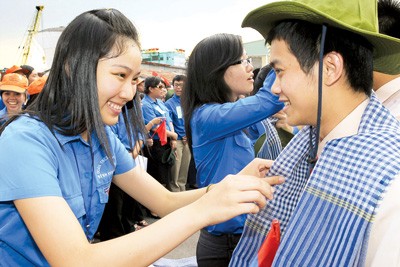 Representatives from Vietnam offer scarves as gifts to the Southeast Asian Youth members at Saigon Port, HCMC on December 4. (Photo:SGGP)
Vietnamese youth and Ho Chi Minh City Communist Youth Union Chapter held a welcome ceremony at the port led by Pham Ngoc Quynh, Secretary General of the National Committee for Vietnamese Youth.
At the welcome ceremony, Quynh hoped that such joint activities would send a message of peace, friendship and solidarity to all ASEAN countries and Japan. He also hoped that the ASEAN countries and Japan would continue to have strong ties in future.
During the four days in Vietnam, the young delegates will go on trips to historic and cultural sites and take part in social activities in HCMC.
They will also experience home-stays before leaving for Japan on December 7.
Delegates will have a chance to learn the Vietnamese culture by attending many cultural and social activities on subjects ranging from the environment, international relations, education, health, cuisines and community development.
1,000 local youth and citizens from HCMC warmly welcomed the delegates as they got off the ship, which surprised many of the visitors who were touched by the overwhelming welcome.
Tran Hoai Minh, the youngest member of the Vietnamese delegation, said such a trip helps Vietnamese people to learn more by meeting and mixing with young people of different regions of Southeast Asia and Japan.
Vietnam has been sending young representatives for the Southeast Asian Youth Program (SEAYP) each year since 1995. According to the management board, Vietnamese delegates have been improving their English speaking ability and have developed a deep bonding with people from representing regions. The program has been highly successful over the years.
SEAYP is a joint initiative by Japan and five founding ASEAN members, namely Indonesia, Malaysia, the Philippines, Singapore and Thailand. The program began in 1974 and since then more than 10,000 youth from the ten ASEAN countries and Japan have travelled on the ship.
The programme seeks to strengthen friendship, co-operation and understanding between Japanese and Southeast Asian youth to help build a peaceful, stable and prosperous region.