The 78-hectare Da Phuoc Solid Waste Treatment Complex in Ho Chi Minh City's Binh Chanh District is scheduled to begin operation November 1, 2007, becoming the country's largest-ever waste processing complex with capacity to treat over half the city's current waste output.
Equipped with advanced U.S. waste treatment technology, the complex is expected to help reduce Ho Chi Minh City's waste problems over the plant's expected two-decade lifespan.
The complex will consist of a landfill site with capacity of 3,100 tons of solid waste per day, a garbage-recycling plant, and a factory to produce compost from organic waste.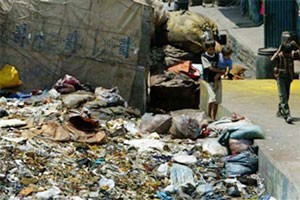 Overflowing landfills threaten city residents' comfort and health
 In its five first days of operation, the complex' landfill capacity will be limited to 60 tons of solid waste per day, with volume gradually increasing to 3,100 tons per day by November 26.
According to Mr. David Duong, representative of Viet Nam Solid Waste Solutions Co. Ltd., a subsidiary of the California Waste Solutions Inc., to immediately help reduce city land needed for dumping and build up sufficient waste inputs for the garbage-reprocessing plant and factory producing fertilizer from organic waste, the landfill will be completed first.
Mr. Duong added the landfill is built to advanced U.S. waste-treatment standards and can prevent waste water from contaminating underground water sources.
The plant's waste-water intake will be collected and used as raw material for a biogas-production plant with capacity of 300 liters per day, said Mr Duong. The biogas will in turn fuel a power-generation plant which is to feed electricity back into the overall complex. 
Addressing Landfill Overflows
City People's Committee Chairman Nguyen Huu Tin noted that each day some 6,000 tons of the city's solid waste is dumped in Phuoc Hiep, a currently environmentally sound landfill in Cu Chi District.
Once operating, the Da Phuoc treatment facilities are expected to recycle some 3,000 tons of waste a day, half the city's daily waste production.
Dr. Nguyen Trung Viet, head of the Management of Solid Waste Section of the HCMC Department of Natural Resources and Environment, stressed that the advanced treatment technologies being introduced at the Da Phuoc Complex are estimated to have an effective lifespan of 21 years.

Mr. Viet pointed out that all of the city's garbage has so far gone to landfills and the city must add some 20 hectares more for this purpose each year.

Existing landfills are rapidly running out of space. For example, the Go Cat waste-processing site in Binh Tan District was closed late last year due to overflow.

With fewer sites to dispose of the city's trash, the Phuoc Hiep and Da Phuoc waste treatment facilities are anxiously anticipated.