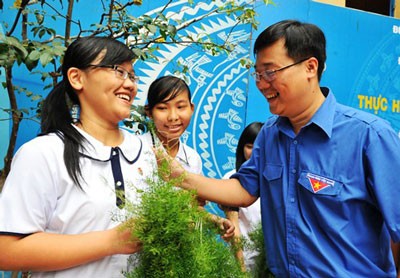 Le Quoc Phong, Secretary of the HCMC Youth Union gives ornamental trees to students of Tran Khai Nguyen High School in District 5
Ho Chi Minh Communist Youth Union in Ho Chi Minh City kicked off Youth Month with a campaign to promote an urban civilized lifestyle under the motto 'cultural behavior-civilized action', on February 24.

In order to focus on the goal of youth adopting an urban civilized lifestyle, the HCMC Youth Union decided to organize opening ceremonies for Youth Month not at city level but at each individual center.
Besides propaganda activities, the Youth Union carried out intensive awareness campaigns to encourage residents to adopt a civilised lifestyle such as protecting the environment as well as the cityscape.
After the opening ceremony, members of the Youth Union in District 5 took part in a campaign to clean up the surrounding Cho Ray Hospital and Nguyen Chi Thanh Street area, discouraging hawkers, removing illegal advertising posters stuck on electric poles, putting new litter bins along the streets, and presenting flowers to Tran Khai Nguyen High School.
The Youth Union of District 5 is also cooperating with Cholon traffic police to train the sixteen existing emergency teams on how to manage traffic jams and proper patrolling, so as to prevent illegal motorbike races along Vo Van Kiet and Le Hong Phong Streets.
In District 8, the Youth Union launched its first activity of Youth Month--a campaign to encourage good reading habits among residents, especially the youth and children.
The union will also hold many camps for high school students and mentally slow persons to explain real life values and experiences.

The Youth Union is responsible for helping at least three mentally slow persons in each ward, creating teams of 'Street Friends' so as to prevent crime, and help the youth with VND1 billion (approx. US$47,800) for study or work.

Comrade Phan Van Mai, Standing Secretary of the Ho Chi Minh Communist Youth Union was present at the opening ceremony of Youth Month in District 5.