The Zoo and Botanical Garden in Ho Chi Minh City has just bought four kinds of animal species, said Phan Viet Lam, director of the zoo on December 10.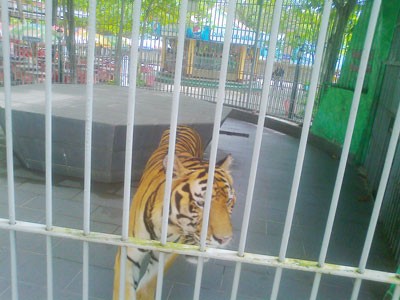 A tiger at the zoo (Photo: A. Quan)
The four animal species include eight red egrets from South America, two white-bearded monkeys from Africa, four pottos and six monkeys, for study purposes and for people to sightsee.
The zoo currently has about 1,000 animals of 124 various species and 2,700 plants of 1,000 species. Reptiles and mammals are listed in the red book including Malayan water monitor, water dragon, Burmese python, elongated tortoise, orange-headed temple turtle, Temminck cat, Indochinese tiger, Smooth coated otter, Chinese pangolin, Chinese pangolin, Stump-tailed macaque, Silver leaf monkey and the black-shanked douc langur.
The garden is planning a program 'The Garden-Color of Festival' with various activities such as an elephant circus, to welcome the coming Christmas season.
In the first eleven months of the year, the zoo received more than 1.8 million visitors, a year-on-year increase of 15 percent and expects to welcome around 2.1 million visitors by year-end.