Based on the economic results achieved in the past two months, Ho Chi Minh City could see its first-quarter GDP grow by more than 10 percent, said head of the city Department of Statistics, Du Quang Nam.
Mr. Nam made the announcement at a February 2 meeting of the HCMC People's Committee to review the city's socioeconomic status for the January-February period and to set forth tasks for March and the months to follow.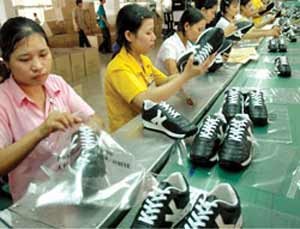 Workers at a shoe factory of Binh Tan Consumer Goods Production Company (Bita's) in HCMC. The city achieves promising economic results in January-February, including industrial output growing by 17.9 percent from a year earlier. (Photo: SGGP)
Speaking at the meeting, standing deputy chairman of the city People's Committee, Nguyen Thanh Tai, said HCMC achieved encouraging results in many economic fields over the past two months, especially in industrial output, which posted a year-on-year growth of 17.9 percent.
Nguyen Van Tho, general director of the Saigon Industrial Corporation, one of the city's leading industrial producers, reported that the corporation's revenue in February reached VND930 billion (US$49 million), up 21 percent from a year earlier. The corporation paid VND387 billion to the State budget, an increase of 33 percent year-on-year.
A representative from the Department of Labor, War Invalids and Social Affairs said that more than 80 percent of the city's workforce, especially industrial park (IP) and export processing zone (EPZ) employees, have resumed work after the recent Tet (lunar New Year) holidays.
Many businesses are planning to recruit workers in large quantities to meet their development needs, the department said.
Discussing the stabilization of consumer prices in the post-Tet period, city People's Committee Chairman Le Hoang Quan called on concerned agencies to increase efforts to control prices, especially those of essential commodities.
"Restraining consumer prices is not only significant for the city but also for the whole country," he said.
Mr. Quan also asked all departments to strengthen efforts to provide necessary information to the media.
  
His deputy, Ms. Nguyen Thi Hong, asked relevant departments to ensure the supply of goods to city markets by expanding distribution channels, strengthening retail systems, and stepping up livestock breeding.
Every district, IP and EPZ should create advantageous conditions for retailers to distribute goods to consumers and workers, Ms. Hong added.
In addition, local authorities at all levels and official agencies must tighten control over the market to prevent speculation of goods and foreign currencies.
To boost HCMC's socioeconomic development in the months to come, Le Minh Tri, deputy chairman of the city People's Committee, called on all official agencies to boost mobilization of capital to meet city demand, especially in economic activities and infrastructure development.
He also asked authorities at all levels to simplify administrative formalities, particularly in investment procedures, and seek ways to create a resettlement house fund for the city.