Industrialization and urbanization has narrowed farming land in Ho Chi Minh City year by year but the city's agricultural industry has sustained its growth momentum hitting 5.9 percent last year, far higher than the country's average rate of 2.4 percent.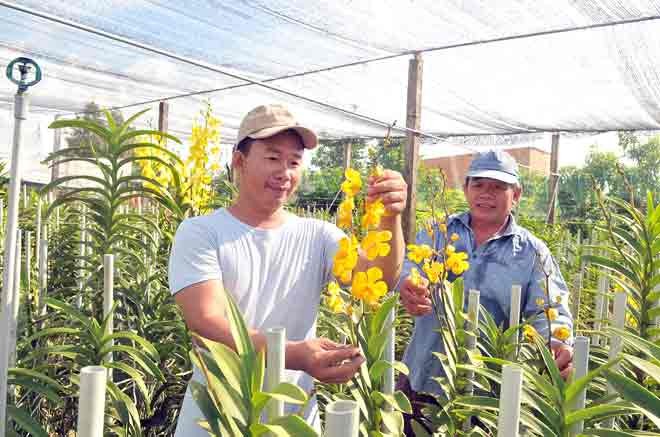 An orchid garden in Cu Chi, HCMC (Photo: SGGP)
Last year agricultural, fishery and forestry production value increased 6 percent, higher than 2.62 percent of the country.
Of these, cultivation was up 4.4 percent, breeding 4.9 percent, agricultural services 11.8 percent and seafood 8.6 percent.
Agricultural restructuring continued shifting low effective one-crop rice farming land into other plants and domestic animals with higher economic value such as orchid, ornamental plants and fish, and safe vegetables.
Cultivation area accounted for 23.3 percent, breeding 41.4 percent and seafood 28.3 percent last year.
The agricultural industry has guided farming households to produce vegetables in accordance with VietGap's quality standard.
Last year, the city granted VietGap certificates to 89 organizations and individuals, taking the total certificated number to 721 ones with a total area of 448 hectares and output of over 47,000 tons a year.
Moreover, the city has about 2,250 hectares of flower and ornamental plants supplying 69 million orchid sprigs and 74 million pots of yellow apricot trees and bonsai annually.
Owing to that, agricultural production value increased to VND375 million (US$17,000) a hectare in 2015 while it was only VND83 million (US$3,700) in the country.
Agricultural businesses produced about 16,200 tons of seed serving over one million hectares of farming land. Of these vegetable seed yielded a productivity of 25 tons a hectare.
The city has 35 tissue culture rooms producing 9.5 million seedlings mainly orchid varieties for itself and other provinces also.

A total of 15 households and individuals and one company produced and traded forestry seedlings with the total nursery garden area of 1.8 hectares.
Businesses exported 626 tons of seeds including 1.4 tons of corn and 260 tons of vegetables to the U.S., Japan, Taiwan (China), Israel and the EU.
Twenty two companies exported more than 11,100 tons of vegetables and fruits mainly to China besides Japan and the EU, 12 million tons of ornamental fish bringing US$11 million turnover up 12 percent over 2014.
Agricultural gross domestic product accounted for a smaller value than other industries but played important role in social welfare and residents' life improvement especially to those in the suburbs, said deputy chairman of the city People's Committee Le Thanh Liem at a meeting implementing this year plan of the agricultural industry.
According to biennial statistics, suburban residents' income accounted for 80 percent of those inner the city in 2014, up from 55.5 percent in 2008.
That was result of the city's efforts in implementation the country's new rural development program.
So far, HCMC has three districts certificated new rural areas including Cu Chi, Hoc Mon and Nha Be. Can Gio has met the standards and waited for official approval. Binh Chanh district is expected to get certification this year.
In the next five years, the city's agricultural industry will strive for sustainable and stable development of urban agriculture and intensify hi-tech application in farming production to improve production value, Mr. Liem said.
This requires relevant agencies to continue developing technical infrastructures and attracting businesses to invest in rural areas.