Ho Chi Minh City's economic growth rate has continued to rise steadily during the first half of the year, currently experiencing its highest GDP rate for the past five years.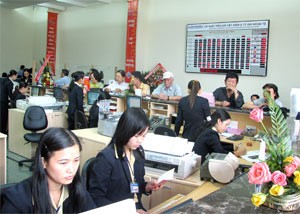 The city's banking is one of four sectors seeing a healthy growth during the first half of the year (Photo: T.C.)
The city's gross domestic product (GDP) amounted VND98.8 trillion (approx. US$6.1 billion), reaching 11.2%, a year-on-year increase of 0.7%.
 
The service sector increased by 12.5%, industry and construction rose 10.3%, and agriculture saw a decrease of 3%.
 
According to the authorities, the service sector is playing an increasingly important role in the city's economic development, showing a high growth rate, the highest in fact in comparison to other economic sectors.
 
The current situation has confirmed that the switch in economic structure is proving beneficial for the economy in general and for the service sector in particular.
 
The total retail and service sector revenues amounted to VND76 trillion (nearly US$4.8 billion), an increase of 27% over the previous year.

Two sectors of which increased dramatically, the revenue of the trade sector and the hotel/restaurant sector increased by 27.5% and 31.3% respectively.
 
The city's export turnover, not including crude oil, reached US$2.8 billion, an increase of 9.6%
 
Four sectors seeing a healthy growth were tourism (increase of 36%), finance and banking (68.6%), transportation (39.8%), and post and telecommunications.
 
In contrast, the industrial production growth rate was low when compared to the rest of the country's economy and worryingly, the competitive product capacity at all three levels of the economy (economy as a whole, sectors and enterprises) remained weak.
 
Technological capacity, technical ability and quality have remained limited and have been unable to satisfy the development needs.