Ho Chi Minh City's economic growth rate remained high and reached the targeted socio-economic levels, reported the City's officials yesterday during a review of the southern economic hub's socio-economic situation for the first five months of the year.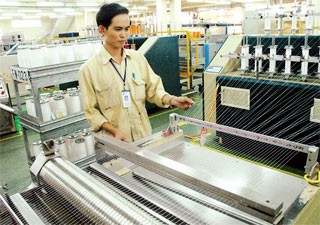 Making thread for export at Coats Phong Phu JV Co. in HCMC
The total retail and service sector turnover reached VND62 trillion (approximately US$3.9 billion), a year-on-year increase of 7.6 percent.
 
Trade and the hotel and restaurant services saw the sharpest increase in turnover of 28.1 percent and 30.9 percent respectively.
 
The number of international visitors to the City also rose to over 1 million, reaching 40.5 percent of the year's target figure.
 
The city's exports surged again during the first five months of the year, amounting US$2.34 billion, an increase of 10.5 percent over the same period last year.
 
Among the exports, rice came top with an increase of 18.4 percent, followed by garments at 10.2 percent, seafood at 6.5 percent, and footwear at 1.9 percent.
 
HCMC-based enterprises have imported more than US$2.96 billion worth of products to date this year, a year-on-year rise of 13.6 percent.
 
The majority of imports centered on fuels, materials for garment and footwear industries, medicines, steel, vegetable oil, milk and milk products.
 
The domestic economic sector recorded growth of 12.6 percent, while foreign-invested enterprises posted an increase of 8.3 percent.
 
The budget collection in the city reached VND31 trillion (approx. US$1.9 billion), a year-on-year increase of 23.3 percent; among which, budget from local resources increased by 39 percent, and from imports and exports it rose by 30.4 percent.