Thanks to the efforts of local officials and citizens, negative impacts of the global economic recession have been mitigated, said Chairwoman of the Ho Chi Minh City People's Council Pham Phuong Thao.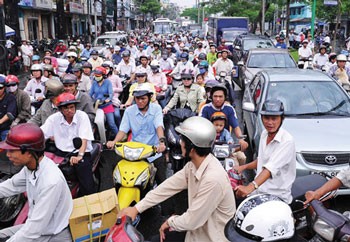 Flooding caused traffic jam on Hong Bang Street in District 5 in Ho Chi Minh City (Photo: Sggp)
The chairwoman made the statement during the 17th session of the HCMC People's Council on December 7.
The city's socio-economic landscape has been gradually rehabilitated, Ms. Thao said, seeing an increase in GDP from 7.5 to 8 percent this year. This is estimated to increase up to 10 percent in 2010, she said, adding that social security policies remained intact.
However, HCM City residents still face many problems including congested traffic, floods and environmental pollution which have yet to be effectively addressed. The city needs more time, capital, human resources and policies for long-term solutions in tackling these issues, Ms. Thao said.
For example, the city needs at least US$26 billion to invest in infrastructure to improve traffic and floods.
According to the chairwoman, reducing the number of private automobiles and motorbikes while improving public transport is key to reducing traffic jams and pollution in the city.
Local officials should also back a Saigon Transportation Mechanical Corporation (SAMCO) project, which calls for producing more buses for the city, said Ms. Thao. 
HCM City now has more than 4 million motorbikes, 400,000 automobiles, 3,200 buses and 11,000 taxis on its roads. Meanwhile, there are only four inter-province bus stations and a serious dearth of parking lots.
The HCM City Department of Traffic and Transportation has cooperated with police and local authorities to charge people for parking around the city. This includes commercial parking for motorbikes and setting up makeshift parking lots. But it's only a temporary solution.
Authorities plan to build large-scale parking lots in the future and will ask buildings and supermarkets to construct more parking lots.
Ms. Thao also discussed the recruitment of talented workers in the city, saying that current salaries paid by local companies are too low. Foreign companies pay much higher salaries, she added.