One of commemorative activities being held across Vietnam to observe the 69th War Invalids and Martyrs Day, July 27, when the country salutes the martyrdom of soldiers who lost their lives defending the sovereignty of the nation is that visit families serving in the country's revolution.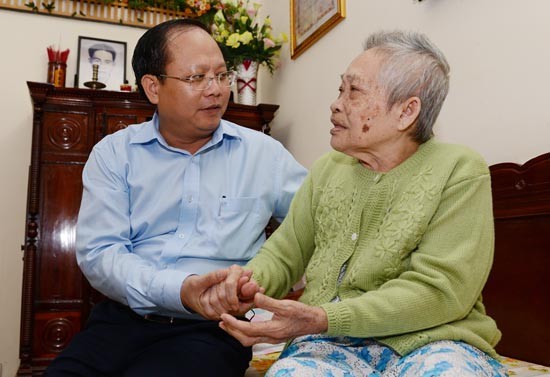 Deputy Secretary Tat Thanh Cang kindly asks Heroic mother Sang's health (Photo: SGGP)
Deputy Secretary of the municipal Party Committee Tat Thanh Cang yesterday led a delegation paid visits to families which serving in the country's revolution in district 10.

The delegation visited Vietnamese Heroic Mother Nguyen Thi Cuc, 71, in ward 8 district 10 whose only son sacrificed for the country's peace and Vietnamese Heroic Mother Nguyen Thi Sang, 79, in ward 11 whose husband and daughter are martyrs, Mr. Cang softly asked their health condition.
On behalf of the Party Committee, the government and people of the city, he expressed the gratitude to mother's sacrifice for the country's freedom wishing that mothers to be healthy. He also asked the local administration to take care of these mothers.

On the same day, the delegation visited wounded soldier Huynh Minh Hung in ward 12 . On behalf of the delegation, Mr. Cang asked soldier Hung about his life showing his gratitude to soldier's sacrifice of all martyrs and wounded soldiers for the country's sovereignty. He believed that Hung's soldier quality will continue develop in this time.

Mr. Cang proposed the local administration to help Hung's daughter to have an employment after her graduation.

Yesterday, Chairwoman of the municipal Labor Union Tran Kim Yen went to the houses of Vietnamese heroic mothers, wounded soldiers and families who served in the country's revolution in Phu Nhuan District to pay them visits. Ms. Yen kindly asked the health condition of 82 year old Vietnamese Heroic mother Nguyen Thi Ty whose two sons died in Cambodia battle field wishing her good health.
Currently mother Ty is very healthy, she participates in activities held by the city authority.

Visiting special wounded solider Nguyen Hai Quy who is bedridden for 30 years because of many diseases.

Phu Nhuan District has eight wounded soldiers with two in difficult condition.
89 year old Nguyen Thi Men, wife of martyr Manh Dan who died in the wartime against the US troop, actively partakes in charity activities in the district. She was awarded medals and merit certificates for these activities