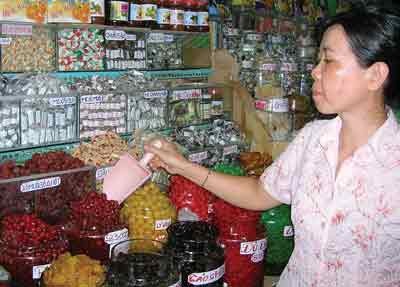 Chinese-made jams and dried fruits being sold at a shop in Binh Tay Market in HCMC's District 6. Following fears that the Chinese products contain high quantities of lead, city authorities have seized some stocks and taken others for testing. (Photo: SGGP)
After Sai Gon Giai Phong reported October 13 that Chinese –made jams and dried plums and other fruits could contain lead, Ho Chi Minh City health personnel visited Binh Tay Market in District 6 on October 13 and collected samples from shops selling them.
They also seized 24 kilogram of dried plums from a shop that failed to produce receipts for them or certificates of hygiene and safety.
Under Ministry of Health regulations, foods cannot contain more than 2mg of lead per kilogram since the metal is toxic and cannot be removed easily from the human body.
Foods containing heavy metal like lead will cause chronic diseases - long duration and generally slow progression such as heart disease, stroke, cancer, chronic respiratory diseases and diabetes.