A healthcare festival will take place in two days May 28 and 29 in September 23rd Park in Ho Chi Minh City, benefitting kids.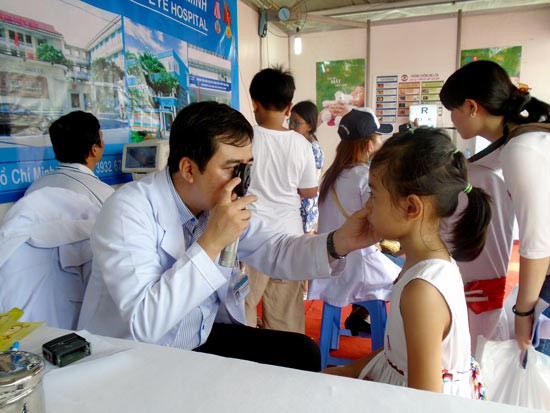 A medical worker is examining a kid's eye at the previous healthcare festival (Photo: SGGP)
The fourth healthcare festival for children held by the city's Public Medicine Association in response to the International Children's Day on June 1 aims to raise people's knowledge of healthcare for children from which improve kids' health condition.
 
The festival provides healthcare services from the Department of Food Safety and Hygiene, the Nutrition Center, the Preventive Medicine Center, the Health Communication and Education Center, several city's hospitals and some medical organizations for kids.
The festival is expected to serve around 10,000 kids .
 
Partaking parents will be provided with general medical knowledge from preventing dangerous diseases to food safety to take care of their children. More specially, ill children would receive free treatment and medicine.
 
Attending the festival, kids can play games and enjoy musical performance.